This article is incomplete.
This article is missing one or more sections. You can help the BirdForum Opus by expanding it.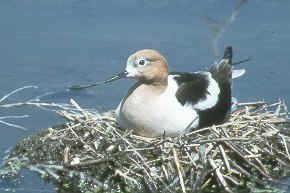 Overview
Established by President Theodore Roosevelt in 1908, Lower Klamath Refuge is our nation's first waterfowl refuge. Located near Tulelake, California, this 46,900 acre Refuge is a varied mix of shallow freshwater marshes, open water, grassy uplands, and croplands that are intensively managed to provide feeding, resting, nesting, and brood rearing habitat for waterfowl and other water birds.
Birds
Notable Species
Just as sure as the leaves fall and ice begins to coat basin wetlands, they will arrive. Each year during the month of November, Bald Eagle begin to appear en masse on their Klamath Basin wintering grounds. Having traveled from as far away as Northwest Territories in Canada and Glacier National Park, these birds quickly settle into a daily routine of waterfowl scavenging throughout the Basin's marshes by day and locating sheltered roosts at night.
The best viewing occurs during January and February when numbers may peak at over 500 birds. During this time, an observant visitor should be able to easily spot dozens of these majestic raptors along the Tule Lake and Lower Klamath auto tours. It is not uncommon to see over 50 eagles from one spot!
Check-list
Birds you can see here include:
Other Wildlife
To do
Site Information
History and Use
To do
Areas of Interest
To do
Access and Facilities
A marked 10-mile auto tour allows visitors year round access to great wildlife viewing opportunities. The Refuge also has a number of photoblinds which are strategically situated for great early-morning photography.
Contact Details
To do
External Links
Content and images originally posted by ayasuda