This article is incomplete.
This article is missing one or more sections. You can help the BirdForum Opus by expanding it.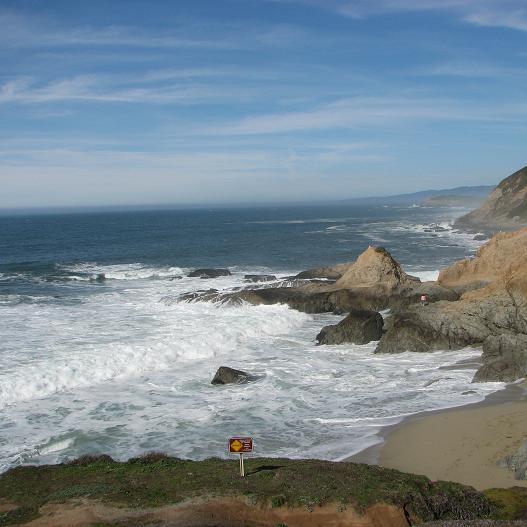 Overview
Bodega Bay is a fishing village on the west coast of the US in the State of California. It's protected from the Pacific Ocean by the bay and offers a variety of opportunities to enjoy nature and, by extension, engage in some potentially great birding[1].
It was one of the locations used for the making of the horror/thriller movie "Birds" in 1963.
Birds
Notable Species
With it's coastal location, Bodega Bay will be an active spot for a good variety of bird species usually connected with proximity to oceans and similar bodies of water.
Sonoma County in California, of which Bodega Bay is a part, has a reported 456 species of birds with one of those being an endemic. 23 of their reported species have been listed as Globally Threatened[4].
Rarities
Species seen less often in the Bodega Bay/Sonoma County area[4] could include the Black-bellied Whistling-Duck, Violet-crowned Hummingbird, Lesser Sand Plover, Hudsonian Godwit, Parakeet Auklet, Swallow-tailed Gull, White-capped Albatross, Great Shearwater, Magnificent Frigatebird. Tricolored Heron, White Ibis, Crested Caracara, Yellow-throated Vireo, Northern Wheatear, Blue-winged Warbler.
Check-list
Birds you can see here include:
Greater White-fronted Goose, Ring-necked Duck, Mountain Quail, Wild Turkey, Greater Roadrunner, Common Nighthawk, White-throated Swift, Calliope Hummingbird, American Coot, Sandhill Crane, American Golden-Plover, Surfbird, Spotted Sandpiper, Ancient Murrelet, Bonaparte's Gull, Red-billed Tropicbird, Murphy's Petrel, Pelagic Cormorant, Great Blue Heron, Red-shouldered Hawk, Nuttall's Woodpecker, American Kestrel, Canada Jay, American Dipper, Cedar Waxwing, California Towhee, Western Tanager .
Other Wildlife
"to do"
Site Information
History and Use
Some of Bodega Bay was used as one of the locations for the 1960s horror/thriller movie "Birds" with some of those places still in existence[5].
Areas of Interest
Bodega Head Trail is a 1.7 mile trail offering a number of opportunities including birdwatching[3].
The Bodega Bay / Sonoma County area has a compliment of state and regional parks offering a variety of habitat with the potential to lend themselves to birding opportunities. They are the Trione-Annadel State Park, Armstrong Redwoods State Natural Reserve, Crane Creek Regional Park, Doran Regional Park, Foothill Regional Park, Hood Mountain Regional Park, Jack London State Historic Park, Kruse Rhododendron State Natural Reserve, Lake Sonoma/Warm Springs Dam, and the Maxwell Farms Regional Park[1].
Access and Facilities
Charles M Schulz – Sonoma County Airport (STS) northwest of Santa Rosa, California is the closest commercial airport to Bodega Bay.
Contact Details
"to do"
References
Recommended Citation
External Links
Maps
https://goo.gl/maps/q9vZhd83SnT53YnPA – Bodega Bay on Google Maps