This article is incomplete.
This article is missing one or more sections. You can help the BirdForum Opus by expanding it.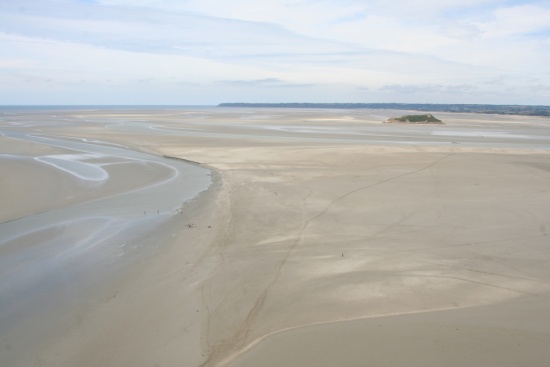 Overview
This huge bay lies on the northern coast of France where Brittany meets Normandy and forms one of the most important wader haunts in the country.
The major habitat is the very extensive mudflats but there are also saltmarsh areas and islands, coastal grasslands and reedbeds as well as stretches of cliff and rocky shoreline. The western part of the bay has dykes enclosing polders.
The bay attracts in excess of 20,000 birds on passage and in winter including waders as well as seaduck and others and the area receives large numbers of passerine migrants. However, there is also much of interest during the breeding season.
Birds
Notable Species
All the regular north European waders can be seen in the bay on passage and in winter but particularly numerous are Turnstone, Oystercatcher, Ringed Plover and Grey Plover, Dunlin, Red Knot, godwits and Eurasian Curlew. Golden Plover, Northern Lapwing and Ruff winter on the nearby grasslands.
Waterfowl present in winter include small numbers of grey geese, thousands of Dark-bellied and a few Pale-bellied Brents, Common Shelduck, Eurasian Wigeon and Common Teal. Barnacle Goose is an occasional visitor with the Brents in severe winters.
This site is of major importance for passage and wintering Common Scoter with as many as 20,000 present at times. Hirundines, pipits and wagtails, larks and buntings are among the many passerines that move through this area in spring and autumn.
Breeding species include Common Shelduck and Mallard, Kentish Plover and Little Ringed Plover and small numbers of Common Quail and Marsh Harrier. Eurasian Skylark, Meadow Pipit and Blue-headed Wagtail breed in good numbers on the grasslands and the reedbeds have Reed Warbler and Sedge Warbler and Reed Bunting.
The cliffs at Carolles on the north-eastern edge of the bay have breeding Shag, Northern Raven and Black Redstart and Lesser Whitethroat, Dartford Warbler and Melodious Warbler nest in the clifftop heath. These cliffs are excellent for watching migration, particularly of passerines, and a wide range of species is possible. Balearic Shearwater can also be seen in good numbers off this point.
Lapland Bunting is regular on the western shores shores of the bay in winter and Short-eared Owl, Hen Harrier, Merlin and Peregrine Falcon hunt over the area in winter.
Rarities
Greater Sand Plover was recorded here in the autumn of 2002 and again in March 2003.
Check-list
Birds you can see here include:
Balearic Shearwater, Great Cormorant, European Shag, Northern Gannet, Little Egret, Grey Heron, Eurasian Spoonbill, Greater White-fronted Goose, Barnacle Goose, Dark-bellied Brent Goose, Pale-bellied Brent Goose, Common Shelduck, Eurasian Wigeon, Common Teal, Mallard, Northern Pintail, Northern Shoveler, Common Pochard, Tufted Duck, Common Eider, Common Scoter, Common Goldeneye, Red-breasted Merganser, Western Marsh Harrier, Montagu's Harrier, Hen Harrier, Eurasian Sparrowhawk, Osprey, Common Kestrel, Merlin, Northern Hobby, Peregrine Falcon, Common Quail, Common Moorhen, Eurasian Coot, Eurasian Oystercatcher, Pied Avocet, Little Ringed Plover, Ringed Plover, Kentish Plover, Golden Plover, Grey Plover, Northern Lapwing, Red Knot, Sanderling, Curlew Sandpiper, Dunlin, Ruff, Common Snipe, Black-tailed Godwit, Bar-tailed Godwit, Whimbrel, Eurasian Curlew, Spotted Redshank, Common Redshank, Common Greenshank, Green Sandpiper, Wood Sandpiper, Common Sandpiper, Ruddy Turnstone, Black-headed Gull, Common Gull, Lesser Black-backed Gull, Herring Gull, Great Black-backed Gull, Sandwich Tern, Common Tern, Common Guillemot, Razorbill, Common Woodpigeon, Short-eared Owl, Common Swift, Wood Lark, Eurasian Skylark, Sand Martin, Barn Swallow, Northern House Martin, Tree Pipit, Tawny Pipit, Meadow Pipit, Blue-headed Wagtail, White Wagtail, Black Redstart, European Stonechat, Eurasian Blackbird, Sedge Warbler, Common Reed Warbler, Melodious Warbler, Dartford Warbler, Lesser Whitethroat, Common Magpie, Eurasian Jackdaw, Carrion Crow, Northern Raven, Common Starling, House Sparrow, Chaffinch, Brambling, European Greenfinch, European Goldfinch, Eurasian Linnet, Snow Bunting, Lapland Bunting, Yellowhammer, Ortolan Bunting, Reed Bunting
Other Wildlife
To do
Site Information
History and Use
To do
Areas of Interest
There are various points from which to view the bay itself including Bec-d'Andaine, Pointe du Mont-Manet and Genets.
In the western part of the bay the polders and dykes can be viewed from the GR34 footpath which crosses the area.
Access and Facilities
Most of the towns and villages in this area can offer accommodation from campsites to hotels and the entire bay can be explored easily by road. The Carolles cliffs can be reached from the D911 Granvilles to Avranches road, turning off towards Cabane Vauban, parking in the small car park and walking to the clifftop path.
Contact Details
To do
External Links
Content and images originally posted by Steve