This article is incomplete.
This article is missing one or more sections. You can help the BirdForum Opus by expanding it.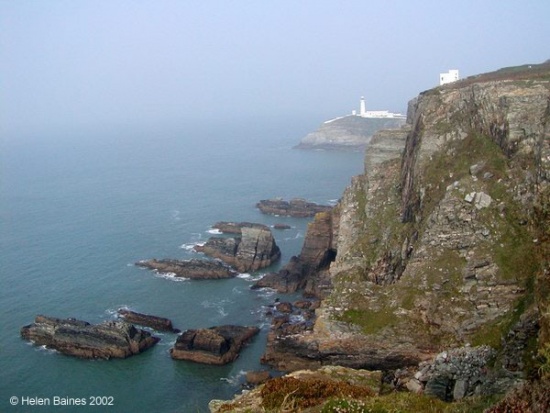 Overview
With some of the most dramatic scenery in North Wales and containing important seabird colonies, this reserve is deservedly one of the most popular in Wales.
Situated on the west of Holy Island, the westernmost headland of Anglesey, the habitat of this reserve consists of the high cliffs of South Stack and the lower cliffs of Penrhyn Mawr to the south. The cliffs are extensively eroded and there are many caves, stacks and gullies.
Atop the cliffs is maritime heath with patches of scrub and in the north, the heather moorland on the slopes of Holyhead Mountain.
Birds
Notable Species
Breeding seabirds of these cliffs include Common Guillemot, Razorbill and Atlantic Puffin, as well as Northern Fulmar, Shag, Kittiwake and other gulls.
Another major attraction of the reserve is Red-billed Chough which breeds in small numbers on the cliffs in addition to Peregrine Falcon.
The heath and moor have Stonechat and Common Whitethroat and the wetter parts of Penrhosfeilw Common, behind Penrhyn Mawr is a breeding site for Northern Lapwing and Common Redshank.
This headland can produce good seawatching with regular Northern Gannet and skuas, large numbers of auks and Manx Shearwater. Sooty Shearwater is regular in autumn but Cory's Shearwater and Macaronesian Shearwater have also been recorded. This is also one of the best sites in Wales for Sabine's Gull.
Rarities
A variety of passerine migrants can be seen here and rarities such as Greater Short-toed Lark, Rufous-tailed Rock Thrush and Ortolan Bunting have been recorded.
In Oct 2001 a Gray Catbird was recorded here, the first British record and present at the same time was a Red-eyed Vireo.
Check-list
Birds you can see here include:
Red-throated Diver, Great Northern Diver, Northern Fulmar, Manx Shearwater, Sooty Shearwater, Northern Gannet, Great Cormorant, European Shag, Hen Harrier, Eurasian Sparrowhawk, Common Buzzard, Common Kestrel, Merlin, Peregrine Falcon, Eurasian Oystercatcher, Eurasian Dotterel, Northern Lapwing, Dunlin, Whimbrel, Common Redshank, Common Greenshank, Ruddy Turnstone, Pomarine Skua, Arctic Skua, Great Skua, Lesser Black-backed Gull, Herring Gull, Great Black-backed Gull, Black-legged Kittiwake, Sabine's Gull, Common Tern, Common Guillemot, Razorbill, Atlantic Puffin, Feral Pigeon, Stock Dove, Little Owl, Short-eared Owl, Eurasian Skylark, Tree Pipit, Meadow Pipit, Rock Pipit, European Stonechat, Northern Wheatear, Fieldfare, Redwing, Common Whitethroat, Blackcap, Goldcrest, Spotted Flycatcher, European Pied Flycatcher, Red-billed Chough, Eurasian Jackdaw, Carrion Crow, Northern Raven, Common Starling, Chaffinch, Eurasian Linnet
Other Wildlife
The area is also important botanically with two major rarities, Spotted Rock-rose Tuberaria guttata, confined to a few sites in Wales and Ireland and a maritime variety of Field Fleawort Senecio integrifolius which occurs only here.
Other scarce species include Pale Heath Violet Viola lactea and Devil's Bit Scabious succisa pratensis. The clifftop and heath are a colourful sight in spring with the bright yellow of Western Gorse Ulex gallii, pink Thrift Armeria maritima and the purple of three species of heather which dominate the heathland.
Heath Spotted Orchid Dactylorhiza maculata is very common on the mountain.
Silver-studded Blue is one of the commonest butterflies here and Small Pearl-bordered Fritillary, Gatekeeper and Grayling also occur.
Adder Vipera berus are common on the heathlands and Common Lizard Lacerta vivipara is also present.
Site Information
History and Use
To do
Areas of Interest
To do
Access and Facilities
Access is free, but donations are appreciated
Reserve open all year
Visitor Centre and tearooms ~ open 10 am to 5 pm daily (except Christmas Day)
Information centre at Ellin's Tower, which has an observation tower overlooking the cliff colonies ~ open 10 am to 5 pm, April to September
There is a car-park and 3 nature trails
The reserve is signposted from the town of Holyhead and can be reached by two minor roads, one of which leads to South Stack via Penrhosfeilw.

Grid reference: SH211818
Contact Details
Tel: 01407 764973
External Links

Content and images originally posted by Steve and HelenB
GSearch checked for 2020 platform.1