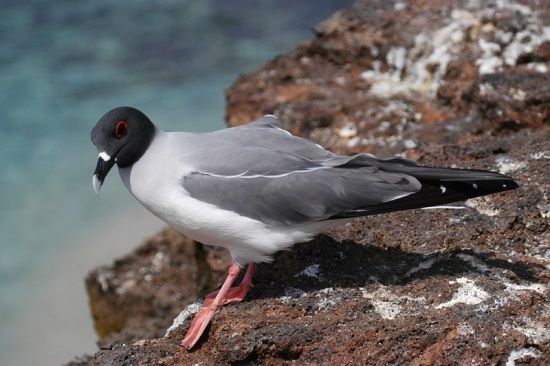 Creagrus furcatus
Identification
Sexes are alike. Adult in breeding plumage has dark, grey head and neck, red orbital ring, black bill tipped with pale grey. Grey mantle and large white wing patches. The legs are pink to red in colour. Adult non-breeding looses the dark head. Juvenile is white and mottled with brown, dark eye patch and orbital ring. No white on bill and paler legs. Unique clicking sounds, possibly developing for echo location, some typical gull-like cries.
Distribution
Seems to be breeding only in The Galapagos Islands. Found offshore along the coasts of Colombia, Ecuador and Peru, and recently discovered to be regular far offshore in Chile, mostly in the north. Accidental vagrant to California with one record in Pacific Grove, Monterey County, California, on 6–7 June 1985.
Taxonomy
Monotypic.
Habitat
Open seas except when breeding.
Behaviour
The only nocturnal gull, and pelagic.
Breeds all year round and lays single egg clutches and raises a single chick brood. Performs mutual preening and head tossing behaviour.
Feeds almost entirely on squid and clupeoid fish.
References
Clements, James F. 2007. The Clements Checklist of Birds of the World. 6th ed., with updates to October 2007. Ithaca: Cornell University Press. ISBN 9780801445019
Restall et al. 2006. Birds of Northern South America. Yale University Press. ISBN 9780300124156
Recommended Citation
External Links
GSearch checked for 2020 platform.1