Alternative name: Water Ouzel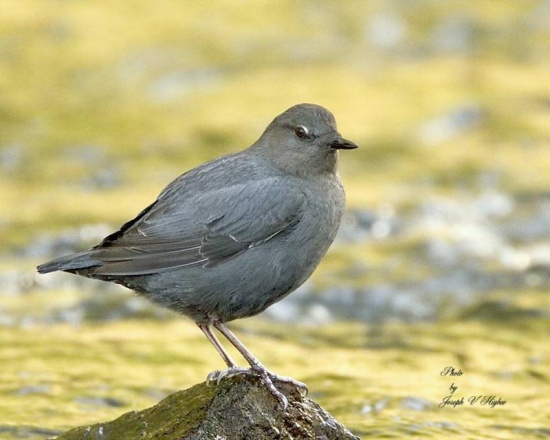 Cinclus mexicanus
Identification
L. 7-8 1/2" (18-22 cm)
Uniform slate-gray
Wren-shaped with stubby tail
Yellowish feet
Juvenile:
Paler overall
Mottled underparts
Distribution
From Alaska including Aleutian Islands through western Canada, USA, Mexico and Central America to Panama. Northern population move to lowlands in winter.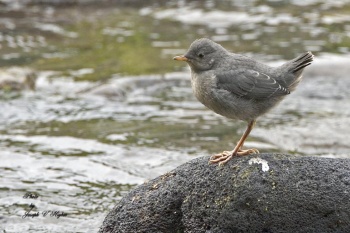 Taxonomy
Subspecies
There are 4 subspecies[2]:
Highlands of northern and central Mexico
Habitat
The American Dipper is most often seen in clear, fastrunning mountain streams.
Behavior
When standing on a rock in or near the stream, they often "bob" up and down.
Breeding
Nest is large but normally well hidden[1]
Diet
Food mainly consist of invertebrates living in streams. Dippers often disappear under the surface searching for food.
Vocalization
Song: A loud, bubbling song that carries over the noise of rapids.
Call: A sharp zeet
References
Howell & Webb, 1995. A guide to the birds of Mexico and northern Central America. Oxford University Press. ISBN 0198540124
Clements, J. F., T. S. Schulenberg, M. J. Iliff, B.L. Sullivan, C. L. Wood, and D. Roberson. 2013. The eBird/Clements checklist of birds of the world: Version 6.8., with updates to August 2013. Downloaded from http://www.birds.cornell.edu/clementschecklist/download/
Recommended Citation
External Links
Search the Gallery using the scientific name:
Search the Gallery using the common name:
GSearch checked for 2020 platform.