This article is incomplete.
This article is missing one or more sections. You can help the BirdForum Opus by expanding it.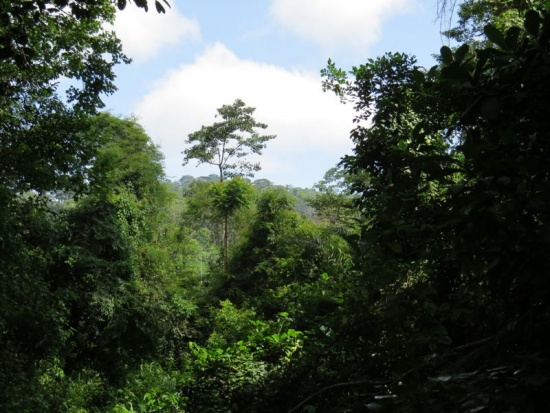 Overview
The Atewa Range Forest Reserve is located in southeastern Ghana, near the town of Kibi.
It's an excellent place for many rare Upper Guinean endemics.
Birds
Notable Species
Check-list
Birds you can see here include:
Cattle Egret, Hooded Vulture, African Harrier Hawk, Yellow-billed Kite, Grey Kestrel, Ahanta Francolin, Blue-spotted Wood-Dove, Tambourine Dove, African Green Pigeon, Red-eyed Dove, Laughing Dove, Red-fronted Parrot, Black Cuckoo, Blue Malkoha, Senegal Coucal, Black-throated Coucal, Little Swift, Woodland Kingfisher, White-throated Bee-eater, African Pied Hornbill, Hairy-breasted Barbet, Bristle-nosed Barbet, Buff-spotted Woodpecker, Lesser Striped Swallow, African Pied Wagtail, Little Greenbul, Little Grey Greenbul, White-throated Greenbul, Simple Greenbul, Common Bulbul, Western Nicator, Grey-headed Bristlebill, Red-tailed Greenbul, Lowland Akalat, White-tailed Alethe, African Thrush, Green Crombec, Green Hylia, Kemp's Longbill, Grey Longbill, Red-faced Cisticola, Whistling Cisticola, Green-backed Camaroptera, Olive-green Camaroptera, Red-bellied Paradise-Flycatcher, Dusky Crested Flycatcher, Chestnut Wattle-eye, Puvel's Illadopsis, Tit-Hylia, Little Green Sunbird, Olive Sunbird, Buff-throated Sunbird, Collared Sunbird, Olive-bellied Sunbird, Superb Sunbird, Northern Yellow White-eye, Northern Fiscal, Black-winged Oriole, Fanti Drongo, Pied Crow, Olive-naped Weaver, Village Weaver, Yellow-mantled Weaver, Vieillot's Black Weaver, Maxwell's Black Weaver, Grosbeak Weaver, Crested Malimbe, Red-headed Malimbe, Black-winged Red Bishop, Grey-headed Nigrita, Western Bluebill, Bronze Mannikin, Pin-tailed Whydah
Other Wildlife
Site Information
History and Use
Large parts of the area have been declared a forest reserve. However the reserve is under severe pressure from logging, hunting for bushmeat and mining exploration (for gold and bauxite).
Areas of Interest
Access and Facilities
External Links