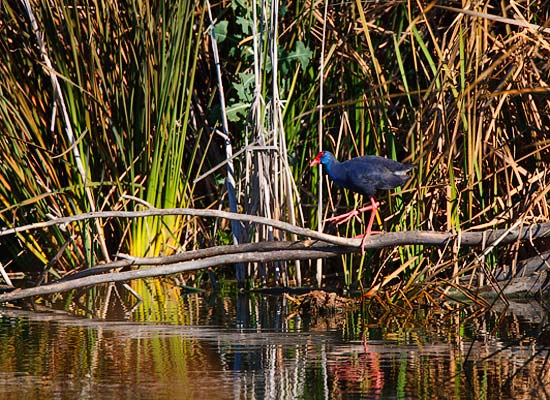 Overview
Arrocampo Reservoir is located in the north-east of Extremadura, just off the A5 to Madrid near the village of Saucedilla. There is some confusion as to the naming of this reservoir, as its official name is Embalse de Arrocampo-Almaraz, and Arrocampo reservoir is actually a much smaller lake to the west, but as all visiting birders know the main water body as Arrocampo, we will keep it at that for simplicities sake.
Birds
Notable Species
An excellent place for close views of Western Swamphen which breed here in relatively large numbers. Savi's Warbler is a regular summer visitor, along with Great Reed Warbler, Purple Heron, Squacco Heron and Little Bittern. Great Bittern regularly overwinter here, along with Bluethroat
Rarities
Great White Egret has recently been fairly common here, and recent sightings of a presumed Little Egret/Western Reef Heron hybrid have been a first for this site.
Check-list
Little Grebe, Great Crested Grebe, Great Cormorant, Little Bittern, Black-crowned Night Heron, Squacco Heron, Cattle Egret, Little Egret, Purple Heron, Grey Heron, Black Stork, White Stork, Eurasian Wigeon, Gadwall, Common Teal, Mallard, Northern Pintail, Garganey, Northern Shoveler, Common Pochard, Black Kite, Red Kite, Black-shouldered Kite, Griffon Vulture, Cinereous Vulture, Short-toed Eagle, Western Marsh Harrier, Hen Harrier, Montagu's Harrier, Common Buzzard, Booted Eagle, Lesser Kestrel, Common Kestrel, Common Quail, Water Rail, Common Moorhen, Western Swamphen, Eurasian Coot, Common Crane, Black-winged Stilt, Stone-curlew, Collared Pratincole, Little Ringed Plover, Eurasian Golden Plover, Northern Lapwing, Common Snipe, Black-headed Gull, Gull-billed Tern, Whiskered Tern, Black Tern, Great Spotted Cuckoo, Common Cuckoo, European Bee-eater, Eurasian Hoopoe, Eurasian Wryneck, Greater Short-toed Lark, Calandra Lark, Thekla Lark, Sand Martin, Barn Swallow, Red-rumped Swallow, Water Pipit, Meadow Pipit, Bluethroat, Cetti's Warbler, Savi's Warbler, Zitting Cisticola, Eurasian Reed Warbler, Great Reed Warbler, Melodious Warbler, Sardinian Warbler, Blackcap, Iberian Chiffchaff, Bearded Tit, Penduline Tit, Iberian Grey Shrike, Woodchat Shrike, Common Jay, Common Starling, Spanish Sparrow, Reed Bunting, Corn Bunting
Other Wildlife
Otters are commonly seen here, especially early in the morning from hide 2.
Site Information
History and Use
Arrocampo reservoir was formed by the damming of several small feeder streams, to make a facility providing cooling water for the nuclear power station, finalised in 1983. The level is well regulated, enabling constant perfect conditions for reed beds.
Access and Facilities
There is now a visitors centre for visiting birders, where you can obtain the key, and site maps for 5 fairly recent hides along the shores of the reservoir. The hides arent particularly well situated, hide number 2 being probably the best, as they are rather far from the waters edge, and much of the birding can be done from the ramps leading to these elevated observation points. The visitors centre is closed on Sunday, but you can get the key from the nearest cafe by the municipal pool.