This article is incomplete.
This article is missing one or more sections. You can help the BirdForum Opus by expanding it.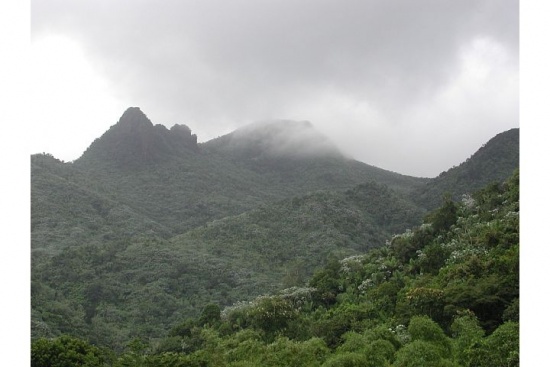 Overview
El Yunque is the only tropical rain forest in the United States National Forest System. It is located in Puerto Rico, covers an area of 28,000 acres and is home to 150 different species of ferns and 240 species of trees. 23 species of trees found in El Yunque can only be found there.
Birds
Notable Species
Rarities
The Puerto Rican Parrot's habitat is limited to the upper western parts of the Luquillo Mountains in El Yunque. It is one of the rarest birds on Earth. The Elfin-woods Warbler is another species of bird that only lives in Puerto Rico and that can be found in El Yunque. It was discovered in 1971 and was completely unknown before that time.
Check-list
Birds you can see here include:
Black-throated Blue Warbler, Puerto Rican Tanager, Antillean Euphonia, Stripe-headed Tanager, Black-whiskered Vireo, Scaly-naped Pigeon, Bananaquit, Ruddy Quail-Dove, Zenaida Dove, Red-legged Thrush, Sharp-shinned Hawk, Pearly-eyed Thrasher, Green Mango, Puerto Rican Woodpecker, Red-tailed Hawk, Puerto Rican Emerald, Gray Kingbird, Broad-winged Hawk, Puerto Rican Parrot, Elfin-woods Warbler, Puerto Rican Tody, Puerto Rican Lizard Cuckoo, Spotted Sandpiper, Black Swift, Puerto Rican Owl, Puerto Rican Bullfinch
Other Wildlife
Site Information
The forest is open daily from 7:30 am to 6 pm.
History and Use
"To Do"
Areas of Interest
"To Do"
Access and Facilities
"To Do"
Contact Details
Phone: (787) 888-1880
USDA Forest Service
El Yunque National Forest HC-01, Box 13490 Rio Grande, PR 00745-9625 Attn: Myrna Tirado
External Links