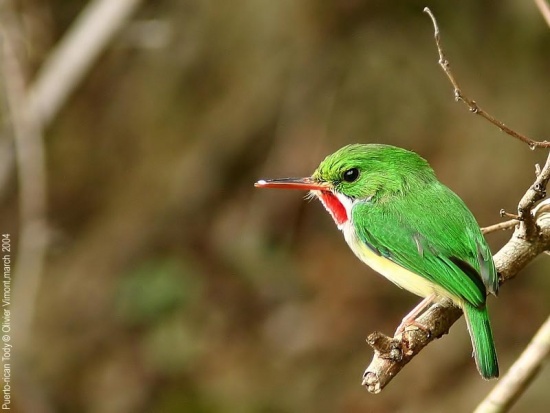 Todus mexicanus
Identification
11 cm (4.25 inches)
A small jewel of a bird with bright green back, red chin and throat, and whitish underside with yellowish tone that is strongest at undertail coverts. The picture is completed by the bill which is long and broad, dark upper but bright red lower mandible. As the bill most often is pointed somewhat up, the lower mandible is much easier to see than the upper.
Similar Species
Tody species in Cuba, Jamaica and Hispaniola are quite similar but don't overlap in range. Within range, only hummingbirds are also small and green, and have obviously a very different build.
Distribution
Endemic to Puerto Rico in the Caribbean.
Taxonomy
This is a monotypic species[1].
Habitat
Forested areas both in arid lowlands and damp highlands. At a visit around May 1, it was easy to see in the Guanica Dry Forest.
Behaviour
Normally seeks food low over the ground, often on the underside of leaves. Sits on a perch, scanning the leaves for prey, sallies out to catch the prey and continue to the next perch in a flight that often is short, maybe 1 meter/3 feet.
References
Clements, J. F., T. S. Schulenberg, M. J. Iliff, B.L. Sullivan, C. L. Wood, and D. Roberson. 2012. The eBird/Clements Checklist of Birds of the World. 6th ed., with updates to October 2012. Ithaca: Cornell Univ. Press. ISBN 978-0801445019. Spreadsheet available at http://www.birds.cornell.edu/clementschecklist/downloadable-clements-checklist
Recommended Citation
External Links