Alternative name: Puerto Rican Amazon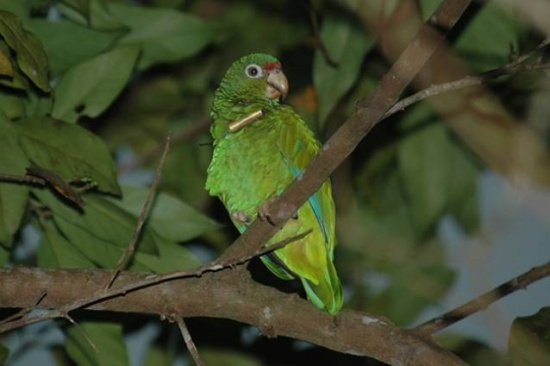 Amazona vittata
Identification
An almost entirely green parrot with a white eye-ring, red forehead and two-toned blue primaries as distinguishing features. The red in the forehead is slightly larger in dominant birds, normally males.
Similar Species
The most problematic feature for identification is presence in Puerto Rico of several introduced parrot species. Among these, Red-crowned Parrot is probably the most similar species, with a larger red area in the head that covers much further back on the head, and with a red patch on the outer secondaries.
Distribution
Puerto Rico and formerly Culebra.
Taxonomy
Currently monotypic after the subspecies on Culebra became extinct.
Habitat
Currently limited to the mountains around the El Yunque National Forest in Puerto Rico. Formerly in most forested areas of Puerto Rico and on nearby Culebra.
Behaviour
Diet
It is a herbivore eating flowers, fruits, leaves, bark and nectar obtained from the forest's canopy.
Breeding
They nest in tree trunk cavities that cannot be made by themselves. Nest height varies from 7 to 15 meters above ground. No lining material is added to the nest.
The female lays 2-4 eggs that she incubates exclusively for a period of 24 to 28 days. The chicks are fed by both parents until they leave the nest around 60 to 65 days after they hatch. Nonetheless, they remain dependent on their parents and travel with them until the next breeding season.
Conservation Concerns
Puerto Rican Parrot is Critically Endangered.
This is one of the rarest birds on the planet due to a variety of factors including habitat destruction, persecution by farmers, and trapping for the pet trade. In addition to the wild population there is a captive breeding program. However, recent results indicate that the current range never was good breeding habitat, and that the species will never be able to survive in the wild unless it is reintroduced in other parts of the island, and in particular into lowland forests.
A count early in 2007 estimated the total population (captive + wild) to be around 230 birds. The breeding season in 2007 was the best on record for the captive population, so the number is certainly higher by the end of the year. In addition, release has started in a second location in Puerto Rico, in an area that is currently closed to the public.
References
Recommended Citation
External Links
The following link is the official site for the Puerto Rican Parrot recovery program Link