Anthracothorax viridis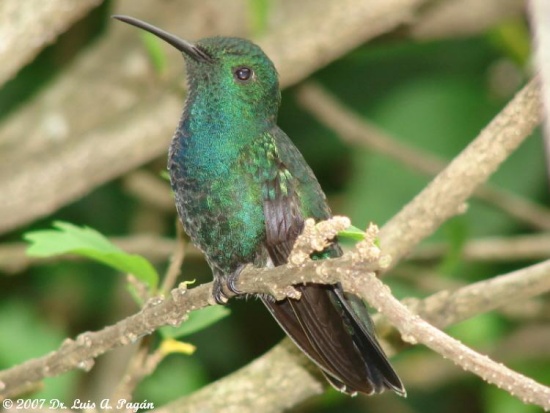 Identification
11–14 cm
Emerald green hummingbird, both above and below and in both sexes (wings darker). The tail is rounded and dark but has a blue sheen. The bill is black and down-curved.
Distribution
Green Mango is endemic to Puerto Rico.
Taxonomy
This is a monotypic species[1].
Habitat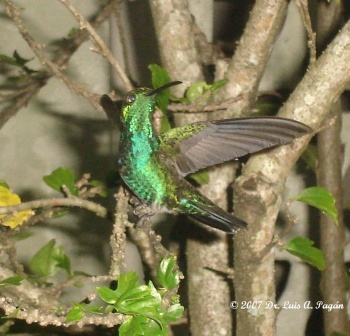 Mountain forests and shade coffee plantations
Behaviour
Diet
Eats both nectar and small invertebrates such as insects and spiders (similar to most hummingbirds in the Caribbean).
Breeding
They build a cup-shaped nest which is placed high in a tree on a vertical branch. They breed from October to May.
References
Clements, J. F., T. S. Schulenberg, M. J. Iliff, D. Roberson, T. A. Fredericks, B. L. Sullivan, and C. L. Wood. 2014. The eBird/Clements checklist of birds of the world: Version 6.9., with updates to August 2014. Downloaded from http://www.birds.cornell.edu/clementschecklist/download/
Handbook of the Birds of the World Alive (retrieved October 2014)
Recommended Citation
External Links