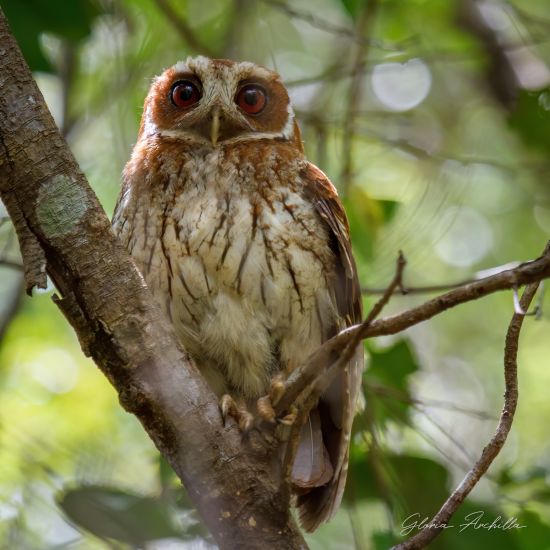 Alternative name: Puerto Rican Screech Owl
Gymnasio nudipes
Megascops nudipes
Otus nudipes
Identification
Puerto Rican Owl is about 23-25 cm or 9-10 inches long. The bird is patterned in mostly brown and white, where the brown is grayish-brown in most birds and rufous-brown in the less common color phase. The back is mostly brown, patterned darker but with lighter flecks, and the crown is similar. Scapulars have white spots forming rows across the shoulder. Underside is generally lighter with most brown on upper breast becoming almost all white at the abdomen. Some of the usual cross-hair patterns seen in other Screech Owls also occur here. The facial disk is poorly separated from the rest of the bird, concentrically patterned and with indistinct eyebrows. Until very recently, this was considered the only species of Screech Owl in the Caribbean to lack ear tufts; however, a photo proved that notion wrong, clear if small ear-tufts can be seen on this species.
The subspecies newtoni is lighter and less strongly patterned on the underside, and has shorter wingspan (it is likely that this translates to "is smaller overall").
The only other true owl with a regular occurrence in Puerto Rico is the Short-eared Owl, but notice also that Puerto Rican Nightjar and two species of nighthawks occur on the island.
Distribution
Puerto Rico and very rare in US Virgin Islands. In British Virgin Islands, it was present at Guana Island until about 1980, and may still be present on Tortola.
Taxonomy
This and all other New World Screech Owls used to be belong to the genus Otus, why Puerto Rican Owl used to be known as Otus nudipes. This species has now been moved to Genus Gymnasio.
The species occurs in two subspecies, the nominate subspecies on Puerto Rico where it seems to be fairly common in the right habitat, and newtoni in the Virgin Islands where it is very rare and critically endangered; newtoni also used to occur on Vieques Island in Puerto Rico, but is probably extirpated from here. König et al. in 1999 mentions that the subspecific status of the two forms may not be valid; more information is needed.
Habitat
Woodlands and thickets, ranging from the rainforest in El Yunque National Forest to the dry forest at Guanica.
Behaviour
This species is nocturnal, hiding during the day in dense foliage of trees, in dense thickets, or even in caves. Breeding occur in crevices, caves, and holes in trees, e.g., burrows made by the Puerto Rican Woodpecker.
Typical song is similar to other Screech Owls trill but has a pitch that increases and than falls again.
References
Clements, J. F., T. S. Schulenberg, M. J. Iliff, S. M. Billerman, T. A. Fredericks, J. A. Gerbracht, D. Lepage, B. L. Sullivan, and C. L. Wood. 2021. The eBird/Clements checklist of Birds of the World: v2021. Downloaded from https://www.birds.cornell.edu/clementschecklist/download/
Recommended Citation
External Links
The following link will search the gallery for images of the Puerto Rican Owl, however none were found at the time of editing.