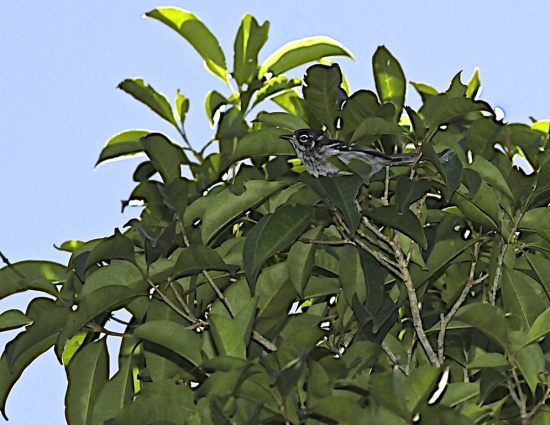 Setophaga angelae
Dendroica angelae
Identification
Upperside mostly black with white wing-bars, thin white eye-brow, broken white eye-ring, and white spots on ear-coverts and neck. Underparts are basically white with strong black stripes.
Immatures are more gray, and in even younger birds, with greenish colors replacing the black.
Distribution
Elfin-woods Warbler was not discovered until 1971. It is endemic to Puerto Rico, where it is limited to two areas: eastern Puerto Rico where it is found in Luquillo Mountains, and in the west, where it is only found in the upper parts of Maricao State Forest.
It is considered threatened due to the small area of occurrence and the limited habitat. The two areas are 100 miles apart, and there is therefore very limited chance of gene flow from one area to the other.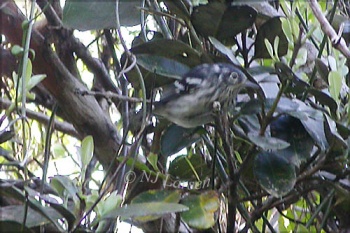 Taxonomy
This is a monotypic species[1].
Formerly placed in genus Dendroica.
Habitat
The greatest chance of seeing them is in areas with dwarf forest, especially if vines are abundant.
Behaviour
Likes to glean insects from leaves and branches.
References
Clements, J. F., T. S. Schulenberg, M. J. Iliff, B.L. Sullivan, C. L. Wood, and D. Roberson. 2012. The eBird/Clements Checklist of Birds of the World. 6th ed., with updates to October 2012. Ithaca: Cornell Univ. Press. ISBN 978-0801445019. Spreadsheet available at http://www.birds.cornell.edu/clementschecklist/downloadable-clements-checklist
Avibase
Recommended Citation
External Links