This article is incomplete.
This article is missing one or more sections. You can help the BirdForum Opus by expanding it.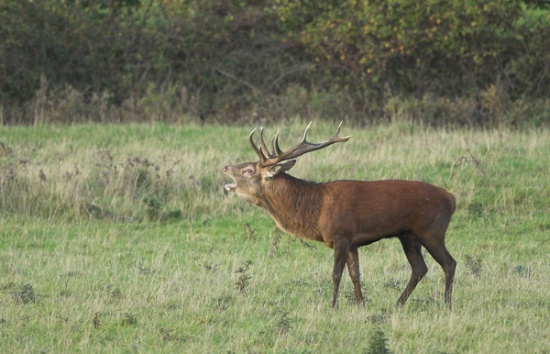 Overview
This small range of hills, measuring about 20km long and 5km wide and reaching 386m at the highest point, lies in the north of Somerset to the east of the larger upland plateau of Exmoor.
The Quantocks,[1] designated an Area of Outstanding Natural Beauty, cover a range of habitats, mainly open grassland, heathland and scrub of gorse and bracken. Deep valleys (combes) cut by numerous streams have dense oakwoods on the northern side of the range with more open and scrubbier country to the south.
At the eastern end of the hills are extensive conifer plantations adding further diversity to the habitats and also to the east is Hawkridge Reservoir, a small13ha water with wooded surrounds. This is a greatly underwatched area and although it is popular with hikers and horse-riders it suffers from surprisingly little disturbance compared to nearby Exmoor. However Black Grouse, once a common breeder, died out in the 1970s.
Birds
Notable Species
The deciduous woods of the Quantocks are home to the three characteristic birds of western British oakwoods, Common Redstart, Wood Warbler and Pied Flycatcher. In addition there is a wide range of the more widespread woodland species including Eurasian Sparrowhawk, Tawny Owl and Stock Dove and all three British woodpeckers.
Woodland passerines include Marsh Tit and Willow Tit, Eurasian Nuthatch and Common Treecreeper and various thrushes, warblers and finches. Grey Wagtail can be seen along the various streams and Common Dipper can still be found in small numbers. Woodcock may occur in winter.
Along woodland edges are Tree Pipit, Stonechat and Whinchat, Yellowhammer and warblers including Grasshopper Warbler and Whitethroat.
In the more open country Eurasian Skylark and Meadow Pipit are by far the most numerous birds but Common Buzzard and Common Kestrel are easily seen few Northern Raven are still present. Northern Wheatear is a common passage migrant to the more open areas and has bred and Ring Ouzel is scarce but regular on passage. Hen Harrier and Merlin are often present in very small numbers in winter and the occasional Red Kite has wandered here from the stronghold in central Wales.
The coniferous plantations have fewer birds but Lesser Redpoll and Siskin are common winter visitors with small numbers of both species remaining to breed. Common Crossbill is winters in variable numbers and may also nest on occasion. A few pairs of European Nightjar still breed in the recently cut areas of the plantations.
Check-list
Birds you can see here include:
Little Grebe, Great Crested Grebe, Mallard, Tufted Duck, Common Goldeneye, Goosander, Hen Harrier, Eurasian Sparrowhawk, Common Buzzard, Common Kestrel, Merlin, Common Pheasant, Common Moorhen, Eurasian Woodcock, Black-headed Gull, Stock Dove, Common Woodpigeon, Eurasian Collared Dove, Common Cuckoo, Tawny Owl, European Nightjar, Common Swift, Green Woodpecker, Great Spotted Woodpecker, Lesser Spotted Woodpecker, Eurasian Skylark, Barn Swallow, Tree Pipit, Meadow Pipit, Grey Wagtail, Pied Wagtail, Common Dipper, Common Wren, Dunnock, Eurasian Robin, Common Redstart, European Stonechat, Whinchat, Northern Wheatear, (rare Su), Ring Ouzel, Eurasian Blackbird, Fieldfare, Song Thrush, Redwing, Mistle Thrush, Common Grasshopper Warbler, Common Whitethroat, Garden Warbler, Blackcap, Wood Warbler, Common Chiffchaff, Willow Warbler, Goldcrest, Spotted Flycatcher, European Pied Flycatcher, Long-tailed Tit, Marsh Tit, Willow Tit, Coal Tit, Blue Tit, Great Tit, Eurasian Nuthatch, Common Treecreeper, Common Jay, Common Magpie, Eurasian Jackdaw, Rook, Carrion Crow, Northern Raven, Common Starling, House Sparrow, Chaffinch, Brambling, European Greenfinch, European Goldfinch, Eurasian Siskin, Eurasian Linnet, Lesser Redpoll, Common Bullfinch, Yellowhammer
Other Wildlife
Site Information
Areas of Interest
Hawkridge Reservoir
The Hawkridge Reservoir [1] is not an exceptional birding site but has Little Grebe, Mallard and Tufted Duck throughout the year and attracts Great Crested Grebe, Pochard and perhaps Common Goldeneye and Goosander in winter. Although Ring-necked Duck has been recorded here there is usually more of birding interest in the surrounding woodlands. Hawkridge Reservoir can be viewed from the roadside and can be reached from Bridgwater on minor roads via Spaxton or Durleigh.
Holford
The Holford [1]area has some of the best woodlands in the Quantocks and can be reached by turning off the A39 in Holford then following signs for Hodder's Combe and Alfoxton. Park at Holford Green and from here both Holford Combe and Hodder's Combe can be explored for woodland and streamside birds and also the upland heath.
Staple
At the western end of the range there is a car-park at Staple Plain above the village of Staple reached from the A39 at West Quantoxhead. [1]From here the combes above Bicknoller and Weacombe can be visited and European Nightjar can be searched for in the conifer plantations. In addition there are various walks and forest trails in the area, notably Aisholt Ring Walk which includes Wills Neck, the highest point in the Quantocks. This point gives superb views over the surrounding countryside and as far as Wales and begins from the car-park at Birches Corner off the A358 via West Bagborough.
Nether Stowey
The Quantock Forest Walk is a Forestry Commission trail off the A39 at Nether Stowey [1]beginning at Triscombe Stone car-park. In addition there are woodland walks from the Somerset Wildlife Trust headquarters at Fyne Court where there is an arboretum and the Quantock Interpretation Centre.
Fyne Court
Fyne Court is in Broomfield [Map]and can be reached from Bridgwater via Enmore or North Petherton. A small lake and an old quarry add to the variety of habitats and a range of woodland birds can be seen amongst the many tree species.
Access and Facilities
The Quantock Hills can be reached from the A39 Bridgwater to Minehead road which runs along the north-eastern edge of the range or the A358 Taunton to Watchet road which skirts the south-western side.
Contact Details
To do
External Links
Maps
Content and images originally posted by Steve