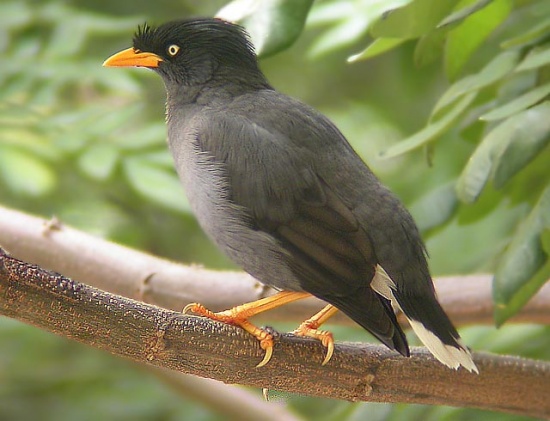 Alternative name: White-vented Myna
Acridotheres javanicus
Identification
21cm. A blackish Myna with a prominent frontal crest.
Mostly black plumage, back ashy-black
White wing patch
Black tail with white tips
White undertail-coverts
Pale lemon-yellow eye
Orange-yellow bill and legs
Sexes similar. Juveniles are browner than adults.
Similar species
Great Myna is larger, has a larger crest and reddish-brown eyes, Crested Myna has blackish undertail-coverts (sometimes with white tips), a larger crest and a paler yellow bill. Jungle Myna is more greyish and has a bluish bill base.
Distribution
Found on Java and Bali, Indonesia.
Introduced to Taiwan, southeast Thailand, Singapore and peninsular Malaysia, Sumatra, Lesser Sundas and Puerto Rico. Possibly also in Japan.
Common and widespread, often considered a pest.
Taxonomy
This is a monotypic species.
This species has been involved in several rounds of splitting. It has been considered conspecific with Great Myna and Pale-bellied Myna. Together with the latter it has also been included in Jungle Myna. The name usage is somewhat confused; see the disambiguation page for White-vented Myna.
Habitat
Cultivated areas and cities. Often in flooded grassy areas.
Behaviour
Roosts in big flocks, roosts sometimes shared with Common Myna, Asian Glossy Starling and Purple-backed Starling.
Diet
Omnivorous. Feeds on fruit, nectar, insects, other animal matter and human refuse.
Forages on the ground, often in pairs or small groups.

Breeding
Now breeds throughout the year. Prior 1940 breeding was recorded from April to May and in September in Java. A monogamous species. The nest is placed in a tree hole or in a palm crown. Lays 2 - 5 eggs.
Movements
A resident species.
References
Clements, JF. 2009. The Clements Checklist of Birds of the World. 6th ed., with updates to December 2009. Ithaca: Cornell Univ. Press. ISBN 978-0801445019.
Del Hoyo, J, A Elliott, and D Christie, eds. 2009. Handbook of the Birds of the World. Volume 14: Bush-shrikes to Old World Sparrows. Barcelona: Lynx Edicions. ISBN 978-8496553507
Recommended Citation
External Links
Search the Gallery using the scientific name:

Search the Gallery using the common name:
GSearch checked for 2020 platform.