Alternative names: White-vented Myna; Buffalo Myna; Thai Crested Myna; Orange-billed Jungle Myna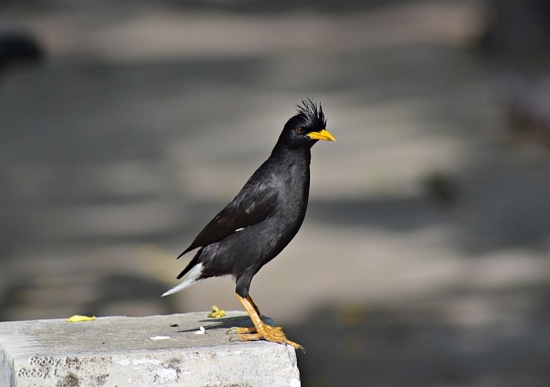 Acridotheres grandis
Identification
25cm (9¾ in). A black myna with a frontal crest
Black plumage with some gloss on back and wings
White wing patch
Black tail with white tip
White undertail-coverts
Reddish-brown eye
Chrome-yellow bill
Yellow legs
Sexes similar. Juveniles are duller and browner, have a short frontal crest, a spotted appearance and buffy undertail-coverts.
Similar species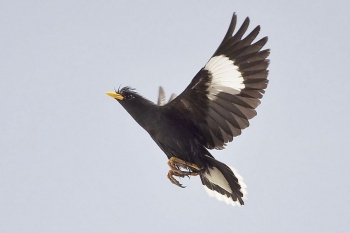 Crested Myna has a yellow to orange eye and no white undertail-coverts, Javan Myna has a pale-yellow eye. Jungle Myna is more greyish, has a bluish bill base and yellow eyes.
Distribution
From northeast India east to southeast Bangladesh, Burma, southeern China (Yunnan, Guangxi), Thailand and Indochina (Laos, Cambodia, Vietnam).
Common in most of its range. May expand its range on the Malay Peninsula.
Taxonomy
This is a monotypic species.
This taxon has been involved in several rounds of splitting and has been considered conspecific with Jungle Myna and Javan Myna.
Name usage is somewhat confused; see the disambiguation page for White-vented Myna.
Habitat
Open country like cultivated areas, rice paddies, parks, gardens, grassland and marshes. Occurs from the lowlands up to 1520m.
Behaviour
Diet
Feeds mainly on insects. Takes also other invertebrates, seeds and berries.
Forages on the ground, mostly in pairs. Often near cattle and buffalos.
Breeding
Breeding season from April to August. The untidy nest is placed in a tree hole or in a palm crown, sometimes in disused Bee-eater burrows. Lays 4 - 6 eggs.
Movements
A resident species.
References
Clements, J. F., T. S. Schulenberg, M. J. Iliff, D. Roberson, T. A. Fredericks, B. L. Sullivan, and C. L. Wood. 2016. The eBird/Clements checklist of birds of the world: v2016, with updates to August 2016. Downloaded from http://www.birds.cornell.edu/clementschecklist/download/
Del Hoyo, J, A Elliott, and D Christie, eds. 2009. Handbook of the Birds of the World. Volume 14: Bush-shrikes to Old World Sparrows. Barcelona: Lynx Edicions. ISBN 978-8496553507
Recommended Citation
External Links
GSearch checked for 2020 platform.