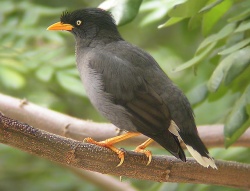 Genus: Acridotheres
Description
Typical Mynas, found mainly in southeast Asia but many species are widely introduced in other parts of the world.
Most species have a dark plumage with large white wing patches. Many species also have bare skin on the head and a frontal crest. The sexes are alike.
Acridotheres-mynas often forage on the ground and are generally omnivorous.
Taxonomy
Acridotheres is a genus in the family Sturnidae.
This genus contains species which have been involved in recent splitting. There is still disagreement as to which taxon is covered by some of the common names; see the disambiguation page for White-vented Myna.
There is also disagreement about which species are included in the genus or not. Some species which are now placed in Sturnus may belong to this genus.
References
Del Hoyo, J, A Elliott, and D Christie, eds. 2009. Handbook of the Birds of the World. Volume 14: Bush-shrikes to Old World Sparrows. Barcelona: Lynx Edicions. ISBN 978-8496553507
Recommended Citation
Pages in category 'Acridotheres'
The following 11 pages are in this category, out of 11 total.