England: Cumbria and Northumberland
Overview
An area of upland heather moorland in the northern Pennines, Geltsdale was formerly managed for grouse but is now controlled by the RSPB. Most of the reserve is in Cumbria, but it also extends a short distance into Northumberland.
Also contained within the reserve are steep-sided wooded valleys and parts of the old King's Forest, Birch and Alder woodland mixed with Rowan, Ash and Hazel.
There are several streams and rivers and to the north, Tindale Tarn, a 150 acre upland lake.
Birds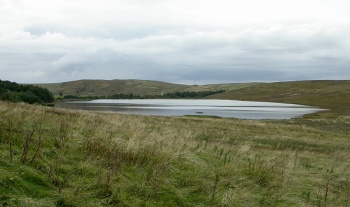 Notable Species
Breeding birds of the moors and upland grassland include Black Grouse and Red Grouse, Golden Plover and Curlew, with Lapwing, Oystercatcher and Common Redshank in lower meadows and Ring Ouzel and Northern Wheatear where there are bushes and rocks.
In the woodland Pied Flycatcher, Common Redstart and Wood Warbler nest as well as five species of tit, Great Spotted Woodpecker and Common Treecreeper. In more open woods and along the woodland edge there are Willow Warbler and Tree Pipit.
The streams are home to Goosander, Common Sandpiper, Grey Wagtail and Common Dipper. Mallard, Tufted Duck, Common Teal and Common Pochard occur on the tarn which is visited by Common Goldeneye and Whooper Swan in winter.
Eurasian Sparrowhawk can be seen along the woodland edges and Hen Harrier, Merlin, Peregrine Falcon and Short-eared Owl are sometimes present.
Check-list
Birds you can see here include:
Whooper Swan, Eurasian Wigeon, Common Teal, Mallard, Common Pochard, Tufted Duck, Common Goldeneye, Goosander, Hen Harrier, Eurasian Sparrowhawk, Common Buzzard, Common Kestrel, Merlin, Peregrine Falcon, Red Grouse, Black Grouse, Eurasian Oystercatcher, Eurasian Golden Plover, Northern Lapwing, Dunlin, Jack Snipe, Common Snipe, Eurasian Woodcock, Eurasian Curlew, Common Redshank, Common Sandpiper, Common Woodpigeon, Short-eared Owl, Great Spotted Woodpecker, Eurasian Skylark, Tree Pipit, Meadow Pipit, Grey Wagtail, Common Wren, Common Dipper, Dunnock, Eurasian Robin, Whinchat, Common Redstart, Northern Wheatear, Ring Ouzel, Eurasian Blackbird, Fieldfare, Song Thrush, Redwing, Mistle Thrush, Common Grasshopper Warbler, Sedge Warbler, Common Reed Warbler, Wood Warbler, Willow Warbler, Spotted Flycatcher, European Pied Flycatcher, Marsh Tit, Willow Tit, Coal Tit, Blue Tit, Great Tit, Common Treecreeper, Northern Raven, Chaffinch, Brambling, Eurasian Linnet, Common Crossbill, Twite, Snow Bunting, Reed Bunting
Other Wildlife
Red Squirrel and Roe Deer occur in the woodland. Fox, Badger and Otter have also been recorded there.
Plants of the upland areas include Cloudberry, and Crowberry with Sundew and Butterwort in lower, wetter parts. The meadows have Globe-flower and are rich in orchids including Bird's nest, Greater butterfly and Fragrant.
Site Information
History and Use
There is a Geltsdale RSPB Nature Reserve within the larger SSSI. It is mostly moorland and is managed by the Royal Society for the Protection of Birds, protecting upland birds such as Hen Harrier and Black Grouse.
Areas of Interest
Tindale Tarn
Access and Facilities
Geltsdale lies east of the M6, about 19km east of Carlisle. Access to Geltsdale moorland is prohibited but it can be viewed from bridleways starting at Jockey Shield, east of Castle Carrock on the B6413 or from the old railway line from Tindale off the A689.
A path runs through Lower Gelt Woods from Low Gelt Bridge, where there is a car-park, just east of the A69.
Alternatively, start at the railway viaduct turning west off the B6413 about 5km south of Brampton. There is wheelchair access from here. To view Tindale Tarn park at Tindale Tarn off the A689 and walk along the old railway line.
Grid reference: NY588584
Contact Details
Tel: 0191 233 4300 (RSPB)
External Links
Recommended Citation

Content originally posted by Steve
Reviews
docherty's review
Pros
A great walk even if you are unsuccesful in seeing any birds. 27th june 2006 great views of hunting Short-eared Owls. Excellent views all around and would be hard pressed not to see Buzzard
warblers
pipits
Curlew and flycatchers
Cons
Most of the area not suitable for disabled access although excellent birding can be had on the roadside up the hill from Jockey Shield.