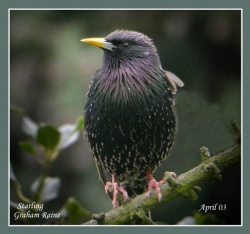 Genus: Sturnus
Description
Two Starlings from Europe, Northern Africa and Asia.
They have terrestrial habitats and usually walk on the ground instead of hopping.

Taxonomy
Sturnus is a genus in the family Sturnidae.
Many former species of this genus have been moved to other genera like Spodiopsar, Agropsar, Gracupica, Sturnia, Sturnornis and Pastor.
Some species normally placed in Acridotheres are sometimes included in genus Sturnus.
References
Del Hoyo, J, A Elliott, and D Christie, eds. 2009. Handbook of the Birds of the World. Volume 14: Bush-shrikes to Old World Sparrows. Barcelona: Lynx Edicions. ISBN 978-8496553507
Recommended Citation
Pages in category 'Sturnus'
The following 2 pages are in this category, out of 2 total.