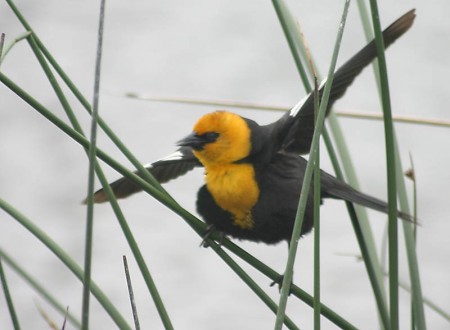 Overview
Turnbull National Wildlife Refuge lies in Spokane County of eastern Washington. Its 27 square miles of rugged scabrock, pine, aspen, and grasslands are interspersed with many small lakes and over a hundred ponds, providing excellent habitat for many birds.
It's easy to spend several hours or a whole day birding this varied refuge. Such a wide variety of birds at close range make this a marvelous spot for beginning birders, as well as experts. Next time you travel in the Spokane area, make sure you plan on stopping at Turnbull.
Birds
Notable Species
The refuge list contains 223 species of birds that have been sighted on the refuge, while over 100 species nest.
The most conspicuous family is waterfowl. Five species of grebes and twenty-nine species of ducks and geese have been found on the refuge. On a typical day in May, you might see Pied-billed Grebe, Canada Goose, Gadwall, American Wigeon, Mallard, Cinnamon Teal, Canvasback, Redhead, Ring-necked Duck, Bufflehead, and Ruddy Duck, as well as many other species.
Resident is a pair of Trumpeter Swan that they have "introduced" to the refuge in attempt at reintroduction. They are almost always found at the large ponds near the visitor center.
Great Blue Heron and American Bittern make up the large wading family, and Virginia Rail and Sora are often heard among the reeds.
August seems to be the best time to see the elusive Virginia Rail as they forage about on the mudflats with fluffy fledglings in tow.
The refuge is great for raptors, with Red-tailed Hawk and Northern Harrier nesting. Rough-legged Hawk, Bald Eagle, and accipiters are occasionally seen as well. California Quail are truly abundant, and Wild Turkey are often seen in the entrance to the refuge.
Twenty plus species of shorebirds come through during migration. Most often seen are Killdeer, Wilson's Snipe, Solitary Sandpiper, and Greater Yellowlegs, while a bunch more make appearances. Look for them around the edges of the ponds in Spring and late Summer, and on any mudflats you can find.
Caspian Tern have been increasingly common in recent years, and you'll probably see Ring-billed Gull and California Gull in addition to the ever-present and prolific Black Tern.
Great Horned Owl, Northern Pygmy Owl, Long-eared Owl, Short-eared Owl, and Northern Saw-whet Owl apparently nest on the refuge, but you'll be lucky if you see anything more than Great Horned Owl.
The veins of aspen are home to Yellow Warbler and Red-naped Sapsucker, as well as migrating warblers of several more species, flycatchers, kinglets, anything else that likes riparian habitat.
Swallows can be particularly abundant if you hit the weather right. There have been times when the valley by the visitor center is swarming with thousands of Barn Swallow, Bank Swallow, Cliff Swallow, Violet-green Swallow, and Tree Swallow, along with the occasional Northern Rough-winged Swallow.
Red-winged Blackbird and Yellow-headed Blackbird are loud and conspicuous in spring and summer, putting on quite a show. Bullock's Oriole and Western Tanager spice up the surrounding vegetation if you get lucky. Marsh Wren, and House Wren are commoner than common, making their loud choruses throughout the daylight hours.
An attraction from westside birders are the ever-present Pygmy Nuthatch, found throughout the pine woods with their buddies the Red-breasted Nuthatch and White-breasted Nuthatch and the Black-capped Chickadee and Mountain Chickadee.
Check-list
Birds you can see here include:
To do
Other Wildlife
To do
Site Information
History and Use
To do
Areas of Interest
To do
Access and Facilities
A decent auto-loop provides access to a number of larger ponds, probably the best route to go on a visit. Walking trails extend from the entrance parking lot overlooking a few lakes, as well as at most of the other stops.
Contact Details
Tel: (509) 235-4723
External Links

Content and images originally posted by Michael W