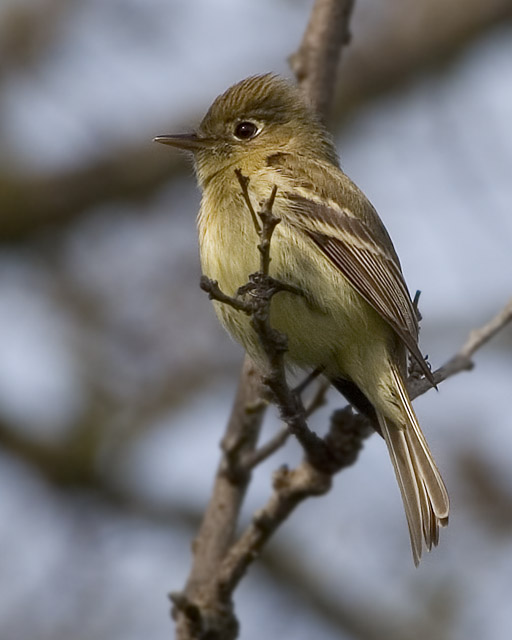 Empidonax hammondii
Identification
12.5-14.4 cm, 7.7-12.1 g

Olive-gray upperparts
Light throat
Gray breast
Pale yellow wash on belly
White eye ring
Very long primary projection
White wing bars
Juvenile slightly more obvious yellow wash on belly than adult
Similar Species
Throat not as white as Alder Flycatcher; wing longer, breast darker and bill narrower and shorter than Dusky Flycatcher.
Likely to overlap with Acadian Flycatcher, Alder Flycatcher, Buff-breasted Flycatcher, Cordilleran Flycatcher, Dusky Flycatcher, Gray Flycatcher, Least Flycatcher, Pacific-slope Flycatcher, Pine Flycatcher, White-throated Flycatcher, Willow Flycatcher, Yellow-bellied Flycatcher, Yellowish Flycatcher.
See also Empidonax.
Distribution
Breeds from eastern Alaska south to northern California and northern New Mexico.
Winters from Mexico south to Nicaragua, rarely in southern Arizona.
Accidental vagrant to northeast (New York, Pennsylvania, and Rhode Island), midwest (Michigan) and the Gulf Coast (Alabama, Louisiana, and Texas).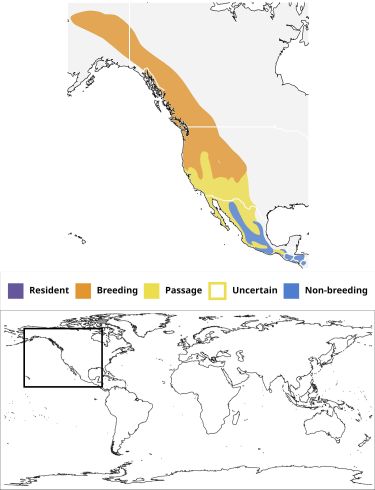 Taxonomy
This is a monotypic species[1].
Habitat
Coniferous and mixed forests. Riparian areas of tall trees, where usually perches high in conifers[2]. Also brush in arid country on migration.
Behaviour
Inclined to flick wings and tail rather more than other similar species.
Breeding
The clutch consists of 3 or 4 white eggs, occasionally spotted, in a well-built cup nest placed on a branch high in a tree.
Vocalisation
Song: seweep-tsurp-seep, the last part rising
Calls: a high peep (similar to a Pygmy Nuthatch) and a soft wit.
References
Clements, J. F., T. S. Schulenberg, M. J. Iliff, D. Roberson, T. A. Fredericks, B. L. Sullivan, and C. L. Wood. 2016. The eBird/Clements checklist of birds of the world: v2016, with updates to August 2016. Downloaded from http://www.birds.cornell.edu/clementschecklist/download/
Sibley Bird Guide
BF Member observations
Recommended Citation
External Links