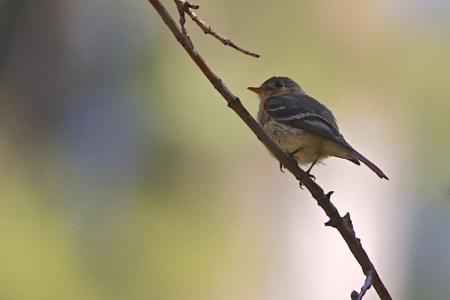 Empidonax fulvifrons
Identification
11.5-13cm The smallest Empidonax flycatcher
Olive grey above
Darker wings and tail
White eye ring
Strong white double wing bars
Rich buff colored breast (most vivid July-February)
Short flat bill
Similar species
None, but see also Empidonax
Distribution
North and Central America: found from Honduras to Western Mexico, extending northward in a band to barely enter extreme south-eastern Arizona.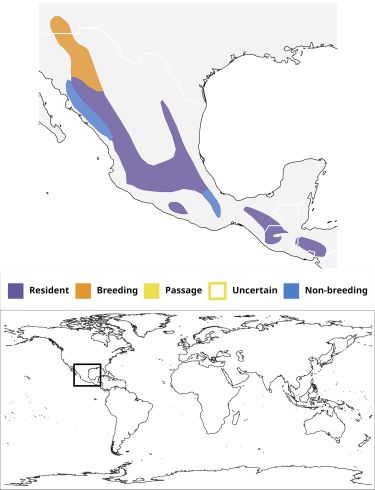 Taxonomy
Subspecies
There are 6 subspecies1:
E. f. pygmaeus - south-western US and north-western Mexico (Sonora to Coahuila)
E. f. fulvifrons - mountains of northeast Mexico (Tamaulipas and San Luis Potosí)
E. f. rubicundus - Mexico (Chihuahua and Durango to Guerrero and Veracruz)
E. f. brodkorbi - southern Mexico (Río Molino area of southern Oaxaca)
E. f. fusciceps - south-eastern Mexico (Chiapas) south to Guatemala and El Salvador
E. f. inexpectatus - central and southern Honduras
Habitat
Scrub and open woodlands, wooded canyons.
Behaviour
Diet
The diet includes insects.
Breeding
A cup nest is placed on a fork in a tree. The clutch consists of 2 eggs.
References
Clements, J. F., T. S. Schulenberg, M. J. Iliff, B.L. Sullivan, C. L. Wood, and D. Roberson. 2012. The eBird/Clements Checklist of Birds of the World. 6th ed., with updates to October 2012. Ithaca: Cornell Univ. Press. ISBN 978-0801445019. Spreadsheet available at http://www.birds.cornell.edu/clementschecklist/downloadable-clements-checklist
Wikipedia
Recommended Citation
External Links