This article is incomplete.
This article is missing one or more sections. You can help the BirdForum Opus by expanding it.
Overview
The Grand Canyon is an American National Park, noted especially as the best exposure of Paleozoic sedimentary rock strata in the world. It is truly a magnificent sight as well. The Grand Canyon is 277 river-miles in length and the park encompasses about 1,900 square miles. It is the most visited park in the USA, with well over 4 million visitors per year.
Birds
Notable Species
Grand Canyon's South Rim is not known as a birding area, but there are several specialties that are worth noting. Chief among these is the excellent chance to see a wild California Condor.
Rarities
Many of the 340 birds of the Grand Canyon (counting North Rim and Inner Canyon as well as South Rim) are considered rare or casual, but this is not the best place in Arizona to see these. Enjoy the geology and leave the Magnificent Hummingbird for a trip to Spofford's feeders in Portal, Arizona, in the southeast corner of the state. However, chances are excellent, over 50%, to see a California Condor, the rarest raptor on earth.
Check-list
Birds you can see here include:
Turkey Vulture, California Condor, Bald Eagle, Sharp-shinned Hawk, Red-tailed Hawk, American Kestrel, Peregrine Falcon, Wild Turkey, Gambel's Quail, Mourning Dove, Great Horned Owl, White-throated Swift, Black-chinned Hummingbird, Broad-tailed Hummingbird, Red-naped Sapsucker, Hairy Woodpecker, Northern Flicker, Western Wood Pewee, Say's Phoebe, Ash-throated Flycatcher, Cassin's Kingbird, Plumbeous Vireo, Warbling Vireo, Steller's Jay, Woodhouse's Scrub Jay, Pinyon Jay, Clark's Nutcracker, Common Raven, Violet-green Swallow, Northern Rough-winged Swallow, Mountain Chickadee, Juniper Titmouse, Bushtit, White-breasted Nuthatch, Pygmy Nuthatch, Brown Creeper, Rock Wren, Canyon Wren, Bewick's Wren, House Wren, Ruby-crowned Kinglet, Blue-grey Gnatcatcher, Western Bluebird, Mountain Bluebird, Townsend's Solitaire, Hermit Thrush, American Robin, Virginia's Warbler, Yellow-rumped Warbler, Black-throated Grey Warbler, Grace's Warbler, Wilson's Warbler, Western Tanager, Green-tailed Towhee, Spotted Towhee, Chipping Sparrow, White-crowned Sparrow, Dark-eyed Junco, Black-headed Grosbeak, Lazuli Bunting, Brewer's Blackbird, Brown-headed Cowbird, Hooded Oriole, Bullock's Oriole, Cassin's Finch, House Finch, Pine Siskin, Lesser Goldfinch, House Sparrow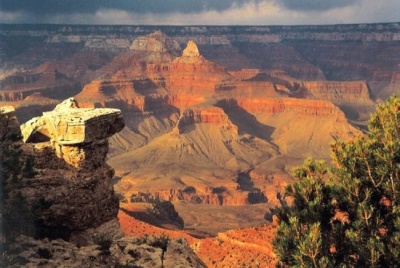 Other Wildlife
Grand Canyon is noted as a geologic wonder, not particularly a wildlife park. However, one can often see elk, mule deer, bighorn sheep, coyote (and yes, the occasional roadrunner), gray fox, mountain lion (puma), Abert's squirrel, cliff chipmunk, rock squirrel, bats in the evening, bobcat, pronghorn antelope (mostly in grasslands on the drive up to the Canyon), and Arizona's State Mammal, the ringtail. There are 4 shrews, 22 bats, 3 rabbits, 14 sciurids (squirrels, chipmunks, prairie dogs), 2 gophers, 1 beaver, 26 mice and voles, 1 porcupine, 4 canids (dogs), rare black bears, 2 procyonids (raccoons and allies), 7 mustelids (weasels, skunks, allies), 2 cats, and most recently, javalina (collared peccary) have expanded their range to Grand Canyon. Visitors will see lizards and the occasional snake. The sight of a venomous reptile, especially the small, pink Grand Canyon rattlesnake, is rare but possible, especially on a hike to the river, 5,000 feet (1500 meters) below the rim.
Site Information
History and Use
To do
Areas of Interest
To do
Access and Facilities
This is a National Park, with year around access and facilities of all kinds.
Contact Details
Grand Canyon National Park
P.O. Box 129
Grand Canyon, AZ 86023
Tel: (928) 638-7888
External Links