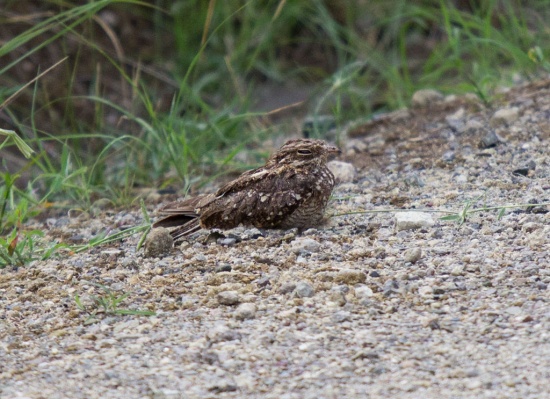 Caprimulgus fraenatus
Identification
25 cm. A sexually dimorphic nightjar.
Dark brown upperparts, speckled greyish-white and streaked blackish-brown
Broad tawny-buff or buff nuchal collar
Dark brown wing-coverts, heavily spotted tawny and buff
Irregular blackish marks on scapulars
White throat patch and white submoustachial stripe
Dark brown spotted buff underparts becoming buff barred brown on belly and flanks
Male with large white spot on four outermost primaries and broad white tips to two outermost tail feathers
Female with pale buff wing spots and buff tips to tail
Immatures browner and paler.
Similar species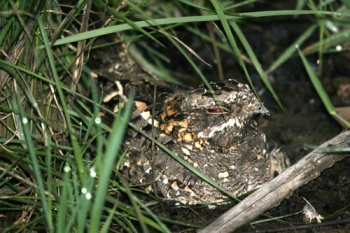 More heavily spotted on breast and wing-coverts than Rufous-cheeked Nightjar. Smaller and darker than European Nightjar which has an indistinct or no nuchal collar.
Distribution
Patchily distributed from Eritrea to Ethiopia, northwest Somalia, South Sudan, eastern Uganda, Kenya to northeast Tanzania.
Possibly vagrant in south Tanzania, Burundi and DRC.
Locally common in its range.
Taxonomy
This is a monotypic species.
Formerly considered conspecific with Rufous-cheeked Nightjar. Birds from Kenya have been separated as subspecies keniensis but this is generally not accepted.
Habitat
Found in open stony bushland and scrubland. Also in sage bush, grassland and eucalyptus plantations.
Occurs from sea-level up to 3200 m.
Behaviour
Diet
Feeds on bugs, beetles, grasshoppers and moths.
Catches its prey by hawking in the air.
Breeding
Breeding season differs through range. Presumably a monogamous species. 1 to 2 nests are laid on bare earth or sandy ground among grass, often sheltered by bushes. Females may react to a threat at nest site with an injury-feigning distraction.
Movements
A mostly sedentary species, migratory in some parts of its range.
References
Clements, J. F., T. S. Schulenberg, M. J. Iliff, D. Roberson, T. A. Fredericks, B. L. Sullivan, and C. L. Wood. 2014. The eBird/Clements checklist of birds of the world: Version 6.9., with updates to August 2014. Downloaded from http://www.birds.cornell.edu/clementschecklist/download/
Gill, F and D Donsker (Eds). 2015. IOC World Bird Names (version 5.2). Available at http://www.worldbirdnames.org/.
Handbook of the Birds of the World Alive (retrieved July 2015)
Recommended Citation
External Links