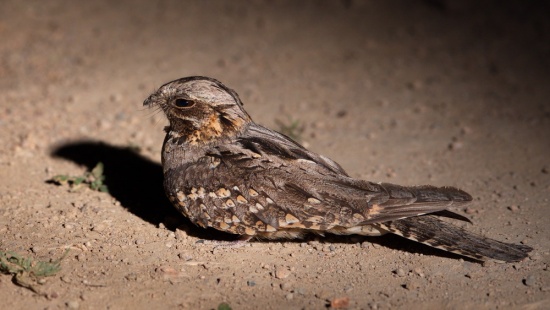 Caprimulgus rufigena
Identification
23 - 24 cm (9-9½ in). A sexually dimorphic nightjar.
Greyish-brown upperparts streaked blackish-brown
Buff or tawny-buff narrow nuchal collar
Greyish-brown wing-coverts, with tawny and buff spots, with broad buffish line along scapulars
White throat patch
Greyish-brown underparts with buff spots, becoming buff barred brown on belly and flanks
Males with large white spots on four outermost primaries and white tips on two outermost tail feathers
Females with smaller white wing spots tinged tawny and buff tips to two outermost tail feathers
damarensis is paler and greyer and have more thinly streaked upperparts
Immatures are paler than adults.
Similar species
Smaller than European Nightjar which has no or indistinct nuchal collar and shows a buff line across wing-coverts, females of that species without white on wings and tail. Sombre Nightjar is darker and more heavily spotted. Males of this species has broader white tips on outermost tail-feathers, female has larger pale buff wing spots.
Distribution
Breeds in southern Africa from Angola south to South Africa.
Winters in west-central Africa, mainly in Cameroon, probably also in the western Congo basin. Recorded as vagrant in Central African Republic and Sudan.
Common to locally common in parts of its range.
Taxonomy
Subspecies
Two subspecies recognized[1]:
Formerly considered conspecific with Sombre Nightjar.
Birds from Angola have been separated as subspecies quanzae but this is generally not recognized.
Habitat
Found in open wooded savanna, woodland edges, miombo woodland, semi-arid acacia scrubland and semi-deserts. Also in plantations.
Occurs from sea-level up to 1600m.
Behaviour
Diet
Feeds on beetles, moths and other insects. Feeds also on insects attracted to artifical lights.
Breeding
Breeding season September to December. A monogamous and territorial species. Builds no nest. 1 to 2 eggs are laid on bare earth in open areas (recently burned or recently felled woodland, also open agricultural country).
Movements
A migratory species. Moves to west-central Africa in southern winter.
References
Clements, J. F., T. S. Schulenberg, M. J. Iliff, D. Roberson, T. A. Fredericks, B. L. Sullivan, and C. L. Wood. 2015. The eBird/Clements checklist of birds of the world: v2015, with updates to August 2015. Downloaded from http://www.birds.cornell.edu/clementschecklist/download/
Del Hoyo, J, A Elliot, and J Sargatal, eds. 1999. Handbook of the Birds of the World. Volume 5: Barn-Owls to Hummingbirds. Barcelona: Lynx Edicions. ISBN 978-8487334252
Recommended Citation
External Links