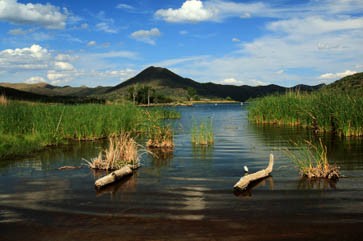 Overview
265-acre Patagonia Lake is the heart of the 740-acre Patagonia-Sonoita Creek Preserve. This is one of the most important refuges and birding destinations in the western U.S., for the number of special species. Many species of primarily Mexican birds are resident here, and many others migrate through or come seasonally. With a diverse environment comprised of desert scrub, marshlands, and large areas of open water (this is the largest reservoir in southern Arizona), the bird list is very long.
Birds
Notable Species
The Elegant Trogon is one of the major draws to the area in winter, although few in number (sometimes a single individual, but it is thought that in recent years up to 5 have arrived.) Trogon elegans comes for the grasshoppers which erupt in considerable numbers along the meadows upstream of the Lake. The lake attracts a full list of inland water birds, with a wide variety of ducks, grebes, herons, cormorants, and egrets.
The other truly notable species is the cow. Although a State Park and Nature Preserve, this is the American West, and ranchers rule. The habitat damage done by grazing cows is extensive and glaring to any visitor - bring rubber boots.
Rarities
Check-list
Birds you can see here include:
Elegant Trogon, Northern Mockingbird, Phainopepla, Orange-crowned Warbler, Yellow Warbler, Yellow-rumped Warbler (both Audubon's and Myrtle forms), Common Yellowthroat, Lazuli Bunting, Northern Cardinal, Pyrrhuloxia, Abert's Towhee, Green-tailed Towhee, Chipping Sparrow, Lark Sparrow, House Sparrow, Lesser Goldfinch, Great-tailed Grackle, Red-winged Blackbird, Scott's Oriole, Bullock's Oriole, White-crowned Sparrow, Lincoln's Sparrow, Black Phoebe, Say's Phoebe, Vermilion Flycatcher, Brown-crested Flycatcher, Cassin's Kingbird, Bell's Vireo, Hutton's Vireo, Common Raven, Chihuahuan Raven, Tree Swallow, Northern Rough-winged Swallow, Bridled Titmouse, Verdin, White-breasted Nuthatch, Bewick's Wren, House Wren, Rock Wren, Ruby-crowned Kinglet, Rock Dove, White-winged Dove, Mourning Dove, Inca Dove, Common Ground Dove, Lesser Nighthawk, Broad-billed Hummingbird, Violet-crowned Hummingbird, Black-chinned Hummingbird, Anna's Hummingbird, Costa's Hummingbird, Acorn Woodpecker, Ladder-backed Woodpecker, Northern Goshawk, Red-tailed Hawk, Osprey, American Kestrel, Peregrine Falcon, Gambel's Quail, Common Gallinule, American Coot, Wilson's Snipe, Cooper's Hawk, Northern Harrier, Ruddy Duck, Common Merganser, Ring-necked Duck, Lesser Scaup, Green-winged Teal, Northern Shoveler, Gadwall, Mallard, Great Blue Heron, Eared Grebe
Other Wildlife
History and Use
The land was aquired by Lake Patagonia Recreation Association in 19671
Fishing, water sports, and riding.
Areas of Interest
Boat rides on the lake (check at Visitors' Center for schedule) are designed with birders in mind. The major birding areas are the Birding Trail, which extends from the north end of the lake for about a mile upstream along the shores of the lake, and the Nature Trail, which is accessed from a turnoff south of the park entrance, and crosses desert scrublands before dropping into arroyos and finally along Sonoita Creek. There are several other, longer trails of less interest to the birder, but still very worthwhile.
Access and Facilities
About 11 miles north of Nogales, AZ, on highway 82, turn north on Patagonia Lake Road (paved). Continue 5 miles to the Park Entrance. Facilities are highly developed: a Visitors' Center, beach, marina, campground with 72 sites (34 with full service), restrooms with showers, dump station, store, boat rentals, etc. Regular programs, including birding hikes and boat rides with expert birders/rangers. The town of Patagonia is 12 miles to the northeast, and has restaurants, laundromats, RV campgrounds, and limited shopping.
Contact Details
Sonoita Creek Visitor Center: (520) 287-2791.
External Links
References
Reviews
robertmortensen's review Birds Identified 3/17/06 through 3/18/06, all confirmed by two or more birders:
Elegant Trogon (the highlight of the trip) Northern Mockingbird Phainopepla Orange-crowned Warbler Yellow Warbler Yellow-rumped Warbler (Audubon's & Myrtle's) Common Yellowthroat Lazuli Bunting Northern Cardinal Pyrrhuloxia Abert's Towhee Green-tailed Towhee Chipping Sparrow Lark Sparrow House Sparrow Lesser Goldfinch Great-tailed Grackle Red-winged Blackbird Scott's Oriole Bullock's Oriole White-crowned Sparrow Lincoln's Sparrow Black Phoebe Say's Phoebe Vermillion Flycatcher (another highlight) Brown-crested Flycatcher Cassin's Kingbird Bell's Vireo Hutton's Vireo Common Raven Chihuahuan Raven Tree Swallow Northern Rough-winged Swallow Bridled Titmouse Verdin White-breasted Nuthatch Bewick's Wren House Wren Rock Wren Ruby-crowned Kinglet Rock Dove White-winged Dove Mourning Dove Inca Dove Common Ground Dove Lesser Nighthawk Broad-billed Hummingbird Violet-crowned Hummingbird Black-chinned Hummingbird Anna's Hummingbird Costa's Hummingbird Acorn Woodpecker Ladder-backed Woodpecker Northern Goshawk Red-tailed Hawk (several morphs) Osprey American Kestrel Peregrine Falcon Gambel's Quail Common Moorhen American Coot Wilson's Snipe Cooper's Hawk Northern Harrier Ruddy Duck Common Merganser Ring-necked Duck Lesser Scaup Green-winged Teal Garganey (3 hens, rare visitor from Eurasia) Northern Shoveler Gadwall Mallard Great Blue Heron Eared Grebe
Pros
fantastic variety of birds
beautiful desert location
Cons