This article is incomplete.
This article is missing one or more sections. You can help the BirdForum Opus by expanding it.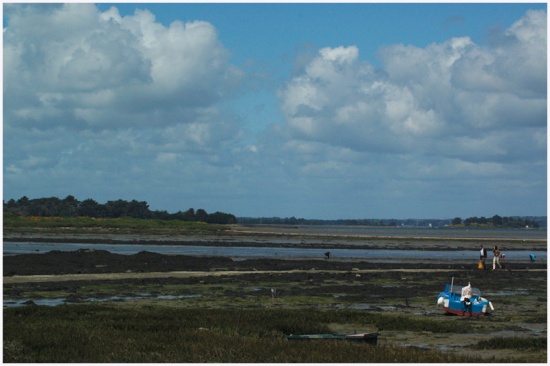 Overview
This vast bay on Brittany's south coast is an extremely important stopover and wintering area for waders and waterfowl that holds tens of thousands of birds in season.
Huge areas of mudflats are exposed at low tide and there are saltmarshes and numerous islands, channels and lagoons as well as arable farmland, shingle beaches and rocky shores nearby.
Birds
Notable Species
Especially important for Dark-bellied Brent Goose from October to March, the Golfe du Morbihan also supports high numbers of Eurasian Wigeon, Northern Shoveler, Northern Pintail and Common Teal as well as Common Shelduck, Red-breasted Merganser and Common Goldeneye.
Waders include most of the regular species of north-western Europe and other species found here in winter include Little Grebe, Great Crested Grebe and around 1000 Black-necked Grebe.
Breeding species of interest include Little Egret, Kentish Plover, Black-winged Stilt, Pied Avocet and Marsh Harrier while Eurasian Spoonbill occurs regularly in some numbers during both passage periods. An introduced population of African Sacred Ibis has been present here since the late 1980s and small flocks can often be seen feeding on the mudflats.
A passerine speciality of Morbihan is Bluethroat which breeds at the Reserve Naturelle de Sene near Vannes and can also be found at the Marais de Suscinio to the south of Sarzeau Map.
The land surrounding the Golfe has extensive pinewoods with a good range of bird species including Black Woodpecker, Green Woodpecker and Great Spotted Woodpecker, Short-toed Treecreeper, Crested Tit and various warblers. Zitting Cisticola occurs in reeds and cornfields and Cirl Bunting is common on farmland and on the many pine-clad peninsulas around the bay.
Check-list
Birds you can see here include:
Little Grebe, Great Crested Grebe, Black-necked Grebe, Great Cormorant, Little Egret, Grey Heron, African Sacred Ibis, Eurasian Spoonbill, Dark-bellied Brent Goose, Common Shelduck, Eurasian Wigeon, Common Teal, Mallard, Northern Pintail, Northern Shoveler, Common Pochard, Tufted Duck, Greater Scaup, Common Eider, Common Goldeneye, Red-breasted Merganser, Western Marsh Harrier, Eurasian Sparrowhawk, Common Buzzard, Common Kestrel, Water Rail, Common Moorhen, Eurasian Coot, Eurasian Oystercatcher, Black-winged Stilt, Pied Avocet, Little Ringed Plover, Ringed Plover, Kentish Plover, Grey Plover, Northern Lapwing, Red Knot, Sanderling, Little Stint, (PM), Curlew Sandpiper, Dunlin, Ruff, Common Snipe (PM,W), Black-tailed Godwit, Bar-tailed Godwit, Whimbrel, Eurasian Curlew, Spotted Redshank, Common Redshank, Common Greenshank, Green Sandpiper, Wood Sandpiper, Common Sandpiper, Ruddy Turnstone, Little Gull, Black-headed Gull, Common Gull, Lesser Black-backed Gull, Herring Gull, Great Black-backed Gull, Sandwich Tern, Common Tern, Razorbill, Common Woodpigeon, Eurasian Collared Dove, European Turtle Dove, Common Cuckoo, Common Swift, Common Kingfisher, Eurasian Wryneck, Green Woodpecker, Black Woodpecker, Great Spotted Woodpecker, Eurasian Skylark, Barn Swallow, Northern House Martin, Meadow Pipit, Tree Pipit, Rock Pipit, Blue-headed Wagtail, White Wagtail, Common Wren, Dunnock, Bluethroat (Su), Eurasian Robin, European Stonechat, Northern Wheatear, Eurasian Blackbird, Song Thrush, Mistle Thrush, Zitting Cisticola, Blackcap, Common Chiffchaff, Goldcrest, Long-tailed Tit, Marsh Tit, Crested Tit, Blue Tit, Great Tit, Short-toed Treecreeper, Eurasian Nuthatch, Common Jay, Common Magpie, Eurasian Jackdaw, Carrion Crow, Common Starling, House Sparrow, Chaffinch, European Serin, European Greenfinch, European Goldfinch, Eurasian Linnet, Common Bullfinch, Yellowhammer, Cirl Bunting, Reed Bunting
Other Wildlife
To do
Site Information
A couple of hours prior to and after low tide are the best time to visit the area and a car is essential to cover all the various viewing points over this large bay.
History and Use
The area is widely used for shellfish farming and shooting is widespread but there is a no hunting bird reserve in the west at Sene, to the south-east of Vannes.
Areas of Interest
The best areas can all be reached from the D780 by taking minor roads towards the sea between Navalo Map, where part of the bay has been enclosed and brackish and freshwater marshes created, and Sarzeau, to the south.
Access and Facilities
To reach the Golfe du Morbihan take the N165 Vannes to Nantes road turning off onto the D780 towards Sarzeau just south of Vannes.
Contact Details
To do
External Links
Maps
Content and images originally posted by Steve