This article is incomplete.
This article is missing one or more sections. You can help the BirdForum Opus by expanding it.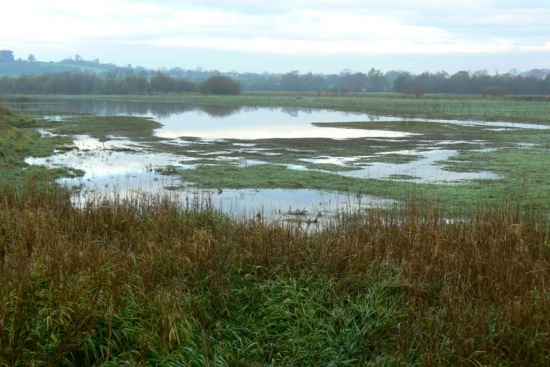 Overview
Coombe Hill Nature Reserve is an area of mixed habitats including wetlands and a disused canal lined with trees. The wetland area, which has two hides, can have a variety of waterfowl and waders, and the trees are hosts to warblers and other summer visitors. It lies near to Cheltenham, Gloucester and Tewkesbury and is accessed from the junction of the A38 and A4019 roads.
Birds
Notable Species
Common Redshank, Common Greenshank, Ringed Plover, Common Snipe, Common Whitethroat, Lesser Whitethroat.
Rarities
Eurasian Spoonbill, Great White Egret, Stilt Sandpiper.
Checklist
Birds you can see here include:
Mute Swan, Canada Goose, Barnacle Goose, Greylag Goose, Shelduck, Mallard, Tufted Duck, Teal, Shoveler, Little Grebe, Coot, Grey Heron, Little Egret, Moorhen, Northern Lapwing, Eurasian Curlew, Whimbrel, Common Redshank, Common Greenshank, Common Sandpiper, Green Sandpiper, Wood Sandpiper, Ringed Plover, Little Ringed Plover, Black-tailed Godwit, Common Snipe, Black-headed Gull, Common Tern, Buzzard, Kestrel, Barn Owl, Stock Dove, European Turtle Dove, Peregrine Falcon, Common Kingfisher, Great Spotted Woodpecker, Barn Swallow, Northern House Martin, Sand Martin, Common Raven, Common Chiffchaff, Willow Warbler, Garden Warbler, Sedge Warbler, Eurasian Reed Warbler, Common Whitethroat, Lesser Whitethroat, Blackcap, Common Redstart, Northern Wheatear, Pied Wagtail, Yellow Wagtail, Great Tit, Long-tailed Tit, Eurasian Wren, Reed Bunting
Other Wildlife
To do
Site Information
Gloucestershire Wildlife Trust supported by Grundon Waste Management, Heritage Lottery Fund, English Nature & The Environment Agency have in recent years acquired an area of over 200 acres of former farmland next to the Trust's Coombe Hill Canal Nature Reserve in the Severn Vale. These areas have now been combined to form Coombe Hill Nature Reserve.
The farmland used to be part of the Coombe Hill Site of Special Scientific Interest (SSSI - a designation given to the country's most important wildlife sites) but in the 1970's & 1980's due to agricultural 'improvements' much of this area's wildlife interest was lost and most of the area was removed from the SSSI designation. The Trust's Management Plan for the meadows, ditches, hedges and long pools is to restore this once important area to it's former condition as a very valuable Wetland Habitat.
The Reserve falls within the Severn and Avon Vales Wetland Partnership area. The Trust is a key partner in this initative which aims to develop and create a wetland landscape within the River Severn floodplain
Areas of Interest
To do
Access and Facilities
From Cheltenham take the road to Tewkesbury. At the Swan Inn where, the A4019 meets the A38, go straight on down the narrow road opposite. After about half a mile, at the far end of this narrow and quite rough road is a small car park and the entrance to the Nature Reserve. You will need good boots.
Follow the canal (on either side) down a generally wet and muddy path for about a mile. Shortly after a bridge over the canal (where you must cross from the South side) access to the Grundon Hide is clearly marked. The path to the hide may be easy, or muddy, or under a few inches of water, or closed (if too flooded) - but it is generally quite easy with boots. This hide holds about ten people easily but (unless there is a rarity about) you will probably be on your own. It has good views of all the wetland areas.
Further walks are available and there is another hide (over another lake which has less in the way of bird life) but please keep to marked paths only.
Contact Details
This site is owned by the Gloucestershire Wildlife Trust.
External Links