This article is incomplete.
This article is missing one or more sections. You can help the BirdForum Opus by expanding it.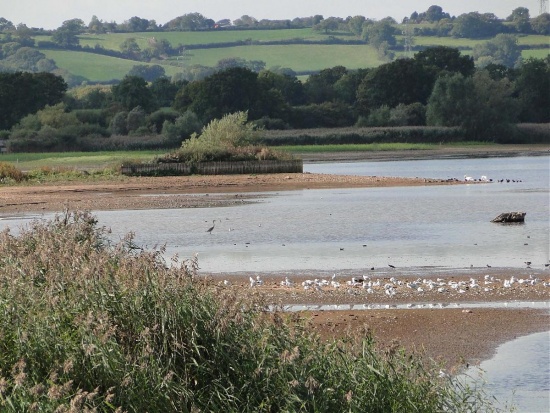 Overview
Despite the pressures from recreational activities, and sailing in particular, Chew Valley Lake remains excellent for birds and one of the most important sites for waterfowl in south-west England. It is an artificial reservoir covering nearly 500ha and was constructed in the 1950s.
Much of the surrounding area is rough grassland with occasional conifer plantations although there are some reedbeds on parts of the shore.
Further afield is mainly farmland with patches of deciduous woodland. More than 250 bird species have been recorded here.
Birds
Notable Species
Most birding interest at Chew Valley Lake lies in winter and during passage periods but breeding birds include Great Crested Grebe and Little Grebe, Gadwall and Tufted Duck. Mute Swan, Common Shelduck, Northern Shoveler, Common Pochard and Ruddy Duck also breed in small numbers, there is a small heronry, a rookery and Reed Warbler nests around the lakeshores.
Passage periods bring a huge range of birds to the lake including a variety of waders, particularly when water levels are low. In autumn Green Sandpiper, Wood Sandpiper and Common Sandpiper, Spotted Redshank, Greenshank and Ruff and Ringed Plover and Little Ringed Plover can all be seen and scarcer species such as Curlew Sandpiper and Little Stint are also regular.
Terns on passage include Common Tern and Arctic Tern with Black Tern regular in autumn. Little Gull is regular and raptors such as Marsh Harrier, Osprey and Northern Hobby pass through briefly.
In autumn and winter Mallard, Northern Shoveler, Common Teal and Eurasian Wigeon occur in flocks of many hundreds, sometimes thousands at Chew Valley Lake. These are joined by smaller numbers of Gadwall, Common Pochard, Tufted Duck and Common Goldeneye. Also regular are Northern Pintail, Smew, Goosander and the introduced Ruddy Duck has one of its major strongholds here with numbers reaching more than a thousand at times. Bewick's Swan is a regular visitor in small numbers in autumn.
More than 30,000 gulls gather here in winter and a search through the flocks of commoner species usually produces Mediterranean Gull and Yellow-legged Gull, possibly also Ring-billed Gull which is recorded annually. Other winter visitors to the area include occasional divers (usually Great Northern Diver), grebes and Great Bittern is present in the reeds most years. Water Pipit occurs here in good numbers in winter.
Rarities
Vagrants occur with some regularity with records for Purple Heron and Savi's Warbler in spring and Black-crowned Night Heron and Cetti's Warbler in autumn. Ring-necked Duck and Ferruginous Duck have been recorded and Nearctic waders are sometimes present and have included Killdeer, Pectoral Sandpiper, White-rumped Sandpiper and Buff-breasted Sandpiper, Long-billed Dowitcher and Wilson's Phalarope.
There is also a chance of waders from the east and Greater Sand Plover, Temminck's Stint and Marsh Sandpiper have been recorded.
Check-list
Birds you can see here include:
Red-throated Diver, Great Northern Diver, Little Grebe, Great Crested Grebe, Black-necked Grebe, Slavonian Grebe, Great Cormorant, Great Bittern, Little Egret, Grey Heron, Mute Swan, Bewick's Swan, Greater White-fronted Goose, Canada Goose, Common Shelduck, Eurasian Wigeon, Gadwall, Common Teal, Mallard, Northern Pintail, Garganey, Northern Shoveler, Common Pochard, Tufted Duck, Greater Scaup, Common Goldeneye, Long-tailed Duck, Smew, Red-breasted Merganser, Goosander, Ruddy Duck, Western Marsh Harrier, Hen Harrier, Eurasian Sparrowhawk, Common Buzzard, Osprey, Common Kestrel, Merlin, Northern Hobby, Peregrine Falcon, Water Rail, Common Moorhen, Eurasian Coot, Little Ringed Plover, Ringed Plover, Golden Plover, Northern Lapwing, Sanderling, Little Stint, Curlew Sandpiper, Dunlin, Ruff, Common Snipe, Black-tailed Godwit, Whimbrel, Spotted Redshank, Common Redshank, Common Greenshank, Green Sandpiper, Wood Sandpiper, Common Sandpiper, Little Gull, Mediterranean Gull, Black-headed Gull, Common Gull, Ring-billed Gull, Lesser Black-backed Gull, Yellow-legged Gull, Herring Gull, Sandwich Tern, Common Tern, Arctic Tern, Little Tern, Black Tern, Common Woodpigeon, Eurasian Collared Dove, Common Cuckoo, Barn Owl, Little Owl, Common Swift, Common Kingfisher, Eurasian Skylark, Sand Martin, Barn Swallow, Northern House Martin, Meadow Pipit, Water Pipit, Yellow Wagtail, Grey Wagtail, Pied Wagtail, Common Wren, Dunnock, Eurasian Robin, Whinchat, European Stonechat, Northern Wheatear, Eurasian Blackbird, Fieldfare, Song Thrush, Redwing, Mistle Thrush, Sedge Warbler, Common Reed Warbler, Common Whitethroat, Blackcap, Common Chiffchaff, (rare W), Willow Warbler, Goldcrest, Common Firecrest, Bearded Tit, Long-tailed Tit, Coal Tit, Blue Tit, Great Tit, Common Jay, Common Magpie, Rook, Carrion Crow, Common Starling, Chaffinch, European Greenfinch, Eurasian Siskin, Reed Bunting
Other Wildlife
To do
Site Information
Areas of Interest
The Chew Valley Ringing Station is situated here at the southern end of the bridge. Just over 1km to the north in the direction of Bishop Sutton is a minor road on the left leading to a car park and permit holders can park here and walk to a hide through the trees.
On the western side of the lake there are more hides reached by taking the minor road on the right at the Blue Bowl Inn and continuing down the hill to the car park. There is a log book in a hide along a boardwalk and another hide to the north in a conifer plantation.
Access and Facilities
Chew Valley Lake lies about 13km south of Bristol and can be reached from the B3130 which links the A38 and A37, both roads heading south from Bristol. From the B3130 take the B3114 southwards at Chew Magna and this road follows the western side of the lake.
Continuing south leads to West Harptree and turning left here leads to Herriott's Bridge which overlooks Herriott's Pool, where islands and lagoons attract many birds and birders.
Contact Details
Permits are available from the Bristol Waterworks Company, Recreations Dept, Woodford Lodge, Chew Stoke, Bristol, BS18 8XH.
External Links
Content and images originally posted by Steve