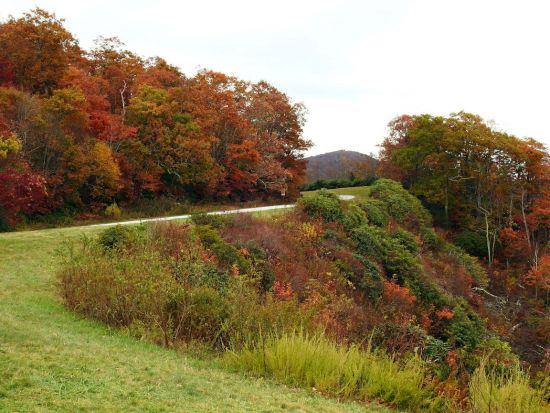 Overview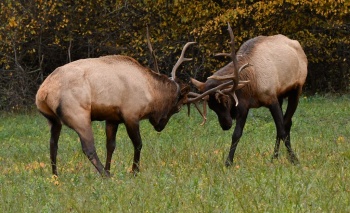 The Blue Ridge Parkway[1] is a National Parkway operated, and overseen, by the United States National Park Service.
The central part of it, the actual parkway itself, is approximately 469 miles long beginning near the Shenandoah National Park in Virginia and ending in Western North Carolina at the Great Smoky Mountains National Park. Elevations of the Parkway range from just over 600 feet to more than 6000 feet above sea level.
A visitor could experience such a wide range of trees, bushes, plants, wildlife, birds, and fish as to defy description.
It "IS" a true nature lover's paradise. Read on to find out more.
Birds
Notable Species
When you're talking about an area that's 460+ miles long, running through 2 states and rising and falling through close to 6000 feet of elevation above sea level throughout its length along with the eco-systems that go with something like that, it's impossible to list the notable species of birds a birder could encounter.
So, let's do it this way using data from eBird. At the northernmost end of this Parkway at milepost 0, in the area of Shenandoah, the Red-winged Blackbird and Common Grackle were the two most reported species.
About a fourth of the way down at milepost 115, in Roanoke County, Virginia, the top two reported species were the Common Grackle and European Starling. At around the mid-point, milepost 230, we come to an area called Glade Valley, North Carolina. Birders in, and around Glade Valley, which is in Alleghany County, North Carolina most reported the Broad-winged Hawk and Chimney Swift.
Three-fourths of the way down near milepost 345, you'll arrive in the area of the Singecat Ridge Overlook near Marion in Yancey County, North Carolina where the 2 most reported species of birds were the Swainson's Thrush and Red-winged Blackbird.
Coming to the end, in the area of milepost 469, you will find yourself in the area of Cherokee, North Carolina, and the Great Smoky Mountain National Park. Cherokee's most reported species were the Tree Swallow and American Crow.
These are just the most reported species in 4 roughly equally spaced places along the length of this expansive and wonderfully natural place. Think of all the others you might see. Now that's notable!
Rarities
Just as it is impossible to pin down notable species in a 469-mile long area, it's equally so when it comes down to rarities in that same area. So let's visit the same areas we did for the notable species and see what has been seldom seen there.
Leading off with Shenandoah, Virginia, milepost 0, the Summer Tanager and Yellow-throated Warbler have seldom shown up.
In Roanoke County, Virginia, milepost 115, the Summer Tanager and Wilson's Warbler fit the bill.
Coming to Glade Valley, Alleghany County North Carolina, milepost 230, again is found the Summer Tanager and Wilson's Warbler.
Looking at the Singecat Ridge Overlook area, milepost 345, in Yancey County, North Carolina the Orange-crowned Warbler and Kirtland's Warbler are way down the list.
Finishing up this journey south on the Blue Ridge Parkway in the Cherokee, North Carolina area, milepost 469, the Summer Tanager is listed again, as is the Kentucky Warbler.
Check-list
Birds you can see here include:
' Red-winged Blackbird, Common Grackle, European Starling, Broad-winged Hawk, Chimney Swift, Swainson's Thrush, Tree Swallow, American Crow, Bald Eagle, Golden Eagle
Other Wildlife
Of course, birds and birding is the first thought of someone visiting Opus on Bird Forum, but it's usually a safe bet a great number of folks so doing are, to other extents, noticeably interested in the other forms of wildlife that may be present and/or encountered while pursuing that next species of bird. So, let's take a look at some other wildlife that's known to be here.
The first thing people often think of when the Blue Ridge Parkway and associated mountains, and areas of Western North Carolina come to mind is the Black Bear, and rightfully so. They are present, but as a general rule are not hazards to people. They tend to not bother people. Just do not come between a momma bear and her cubs. If you do, all bets are likely to be off. Admire from a distance, take pictures, don't feed them, and you'll be fine.
Elk have been reintroduced into the western part of the state and are said to be thriving. You may get to see them, but that's not assured. A wolf species called the Red Wolf had been present in Western North Carolina, However, it's been reported the only remaining habitation for this species is now in Eastern North Carolina only. There are still wild turkeys, wild boar, deer, coyotes, and numerous invertebrates, amphibians, reptiles, and small mammals scattered throughout the region.
Site Information
History and Use
The concept of the Blue Ridge Parkway originated in the early 1930's, was constructed over time, often as a component of various public works projects. It was then, and is now, a constantly evolving place, even to this day. But one thing has always been constant. The Parkway has always been an exceptional exhibition of nature, its magnitude, its variety, and humankind's interaction with it. The sheer magnitude of it can leave you with a profound sense of awe. It is well and truly an experience you won't forget. And you will find yourself wanting more of it over time.
It's open 24 hours a day, 7 days a week, 365 days a year through all seasons. You can avail yourself of just a small amount, or all of it, or somewhere in between, depending on your personal desire. What you can see will change depending on the season of the year and the weather, which does change, on the day you happen to be there.
Use by commercial vehicles is prohibited. Consult official online resources, such as the National Park Service, Blue Ridge Parkway website for specifics.
Areas of Interest
Just like trying to specify notable and rare birds along, and in, the Parkway area, things of interest too are too numerous to include them all. However, a few you might want to consider will follow.
Overlooks and Pull-offs
One of the first things that come to mind, when on the Parkway, is the overlooks and pull-offs you will encounter as you travel along its length. There are approximately 200 different such spots along its length. They will range from simple places where a few vehicles can pull off for a rest, to some with a specific purpose for being added. Those purposes might be because of some particular view from that spot, some anecdote or bit of history connected to that locale. Some will have a picnic area included, some will not. Picnicking, however, is generally allowed even though as long as the area is not abused and waste material is deposited in the receptacle usually provided. Something often found connected to some of these are trails. Trails that might be just for a walk/hike among nature, or to reach a specific spot, which may have been the reason for the pull off, in the first place.
Trails
There are, as said before when talking about overlooks and pull-offs, many trails with a variety of lengths, features, and required physical ability. The Appalachian Trail intersects with the Parkway at some points. Consult an up-to-date, reliable map for both for specifics.
Tunnels
Tunnels were used in the construction of the Parkway for various reasons. There are 26 tunnels along the Parkway with 25 of them situated in North Carolina and 1 in Virginia. Tunnels, and their use, are dependent on the size of the vehicle using them. Consult available online resources for size limitations before use. There will be navigable routes around the tunnels to accommodate oversize units.
Historical Remnants
The Parkway was constructed in, and at times through, areas that were inhabited prior to its construction. In some cases, vestiges of that habitation were left in place and worked into the whole experience both as a matter of respect and an illustration of life in the mountains. Those will often be featured along its length and may be used as a reason for a pull-off.
Mount Mitchell
Mount Mitchell will be found in the area of milepost 355.4. It's said to be the highest peak in the Appalachian Mountains at 6684feet above sea level. Mount Mitchell State Park[2] is a unique experience that you will enjoy.
Great Smoky Mountains National Park
The Great Smoky Mountains National Park[3] is situated near the southern end of the Parkway. It is a destination of nature in, and of, itself. It features all manner of wildlife in its natural setting, amenities, etc.
Qualla Boundary
The Qualla Boundary is the official area of the Eastern Band of the Cherokee Indians who reside in Western North Carolina. There are both historic and natural sites and features in addition to other things. An online search will afford much more complete information for your personal use.
Mountains to Sea Trail
The North Carolina State Parks, State Trails section has an interesting possibility for potential birding sites now in the Mountains to Sea Trail. This trail, when completed, will cover approximately 1175 miles through all regions of the state beginning from Clingman's Dome in Western North Carolina, traveling through the Piedmont Region of North Carolina before winding through Eastern North Carolina and ending at Jockey's Ridge on the state's Outer Banks. Consult the State Trails and Friends of the Mountains to Sea Trail for further details.

These are but a few of the many features that figure into a thorough appreciation of the land on, adjacent to, and near the Blue Ridge Parkway. Keep in mind nature, and all the varied pursuits, like birding, that entails, figures into, or is connected to, the Parkway in particular and Western North Carolina in particular. You are limited only by your tastes and desires. Look, you'll find it somewhere.
Access and Facilities
Access to the Blue Ridge Parkway is as varied as its length and natural features. It intersects numerous roads and highways along its length. An online search and map use will serve you well in determining just how and where you decide to begin your visit. A visit that can be as long, or as short, as you want to make it.
The Parkway is generally open 24 hours a day, 7 days a week, and 365 days a year through all 4 seasons. It's that degree of being open through all kinds of conditions that help give it such an appeal. However, there will be times for reasons of maintenance needs and safety reasons due to weather, that sections may be closed. Should a closure be the result of winter weather and snowy, icy conditions, there may be access allowed for snowmobiles. For specifics about closing and the degree of access allowed during that closure, consult their website for specific and up-to-date information.
The speed limit is 45 miles per hour along the whole length of the Parkway. It is often enforced.
You will often find information about aspects of the Parkway connected to a milepost number. The whole length of it is marked with concrete markers on the side of the roadway. Those markers start at "0" at the beginning in Virginia, marked in increments of tenths along the way, and end with "469" at its southern end. If when traveling, note the milepost you want to get to, calculate from where you are and you know how far away you are and which direction to go. If you find those numbers rising you will be heading in a southerly direction, and if they are going down, you are headed north. It's that simple.
Food and/or lodging, as well as some gift shops, are available in a few random spots along its length. But they are for profit entities operating under contract with the National Park Service. Know there frequently are options at, or reasonably close to, the many access points up and down the length of the Parkway.
Contact Details
National Park Service – Blue Ridge Parkway Website https://www.nps.gov/blri/index.htm
Parkway Office: Blue Ridge Parkway Mile Post: 384 Phone: (828) 348-3400
Mailing Address: Blue Ridge Parkway 199 Hemphill Knob Road Asheville, NC 28803-8686
Recommended Citation
External Links

GSearch checked for 2020 platform.