This article is incomplete.
This article is missing one or more sections. You can help the BirdForum Opus by expanding it.
Overview
Part of the once much more extensive Woodbury Common complex, now highly fragmented and degraded, this reserve is now the largest and most important block of heathland remaining in this area.
Consisting of both wet and dry heath as well as bog, pine and alder scrub and deciduous woodland, the reserve attracts a variety of birds.
Birds
Notable Species
Breeding birds of the heath include Eurasian Curlew, European Nightjar, Stonechat and Yellowhammer, Dartford Warbler and Tree Pipit and a few Woodlark are still present.
The surrounding woods have breeding Common Buzzard and Common Kestrel, Green Woodpecker and Common Raven.
Eurasian Hobby can be seen on passage through this area and also appears in summer, attracted by the numerous dragonflies.
In winter Hen Harrier is regular and a Great Grey Shrike is often present.
Checklist
Birds you can see here include:
Hen Harrier, Eurasian Sparrowhawk, Common Buzzard, Common Kestrel, Eurasian Hobby, Common Pheasant, Eurasian Curlew, Common Wood Pigeon, European Turtle Dove, Common Cuckoo, Eurasian Nightjar, Eurasian Green Woodpecker, Wood Lark, Tree Pipit, Meadow Pipit, Whinchat, European Stonechat, Northern Wheatear, Eurasian Blackbird, Fieldfare, Song Thrush, Redwing, Common Grasshopper Warbler, Dartford Warbler, Lesser Whitethroat, Willow Tit, Marsh Tit, Coal Tit, Blue Tit, Great Tit, Great Grey Shrike, Eurasian Jay, Eurasian Magpie, Carrion Crow, Northern Raven, Common Starling, Chaffinch, European Greenfinch, Eurasian Siskin, Eurasian Linnet, Lesser Redpoll, Yellowhammer, Reed Bunting
Other Wildlife
Three species of heather occur, Common Calluna vulgaris and Bell Heather Erica cinerea with Cross-leaved Heath Erica tetralixin the wetter areas. Western Gorse Ulex gallii is common with occasional patches of the larger Common Gorse Ulex europaeus. The wet heath and bog areas are of most interest to botanists with a range of scarce species such as Bog Pimpernel Anagallis tenella, Pale Butterwort Pinguicula lusitanica, sundews, Lesser Butterfly Orchid Platanthera bifolia and Saw-wort Serratula tinctoria in addition to the many species of Sphagnum.
It is also an excellent site for butterflies with more than 30 species recorded annually. Silver-studded Blue Plebejus argus, Silver-washed Fritillary Argynnis paphia, Brimstone Gonepteryx rhamni, Grayling Hipparchia semele and Purple Hairstreak Quercusia quercus are among the species to be seen here as well as moths such as Emperor Saturnia pavonia and Fox Macrothylacia rubi. Dragonflies are also much in evidence and a good range of species has been recorded including the Southern Damselfly Coenagrion mercuriale, a rare species in Britain and confined to parts of the south-west.
Like other heathland areas this is a good site for reptiles and mammals of the reserve include Roe Deer Capreolus capreolus.
Site Information
History and Use
To do
Areas of Interest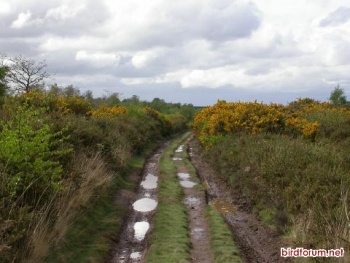 To do
Access and Facilities
The reserve is located in south-east Devon to the north of the A3052 Exeter to Lyme Regis road, 1.6km west of Newton Poppleford. There is a car-park close to the turn-off to Hawkerland, park here and take the tarmac track across the reserve.
There is open access at all times but visitors are asked to keep strictly to footpaths and not to smoke on the reserve.
Grid Ref: SY057898
Contact Details
Tel: 01395 233655 (RSPB)
External Links
Content and images originally posted by Steve
Reviews
luke7906's review The whole area surrounding the reserve is stunning. One of my favourite areas is Bystock Pools(near reservoir). It is here that I've come within a few feet of the Dartford Warbler and on a few occasions a number of Clouded Yellow butterflies, Coal Tits, Bullfinch, Woodpeckers, Goldcrest, Buzzards just to mention a few. I also spotted a queen red-backed bumble bee and plenty of common lizards. Tip: I generally see the warbler around lunch time, possibly something to do with light reaching into the gorse to illuminate the bugs. Pros
One of the few remaining homes of the Dartford Warbler
Cons
A number of roads break up the heath (although not busy)
da2m's review I went on a wet day (30.06.05) so it was very quiet (people) I saw Linnets, Meadow Pipits, Yellowhammers and 1 Dartford Warbler. Easy terrain to walk on. A must go to spot for Devon birders.++++++
Pros
beautiful
easy to get to.