This article is incomplete.
This article is missing one or more sections. You can help the BirdForum Opus by expanding it.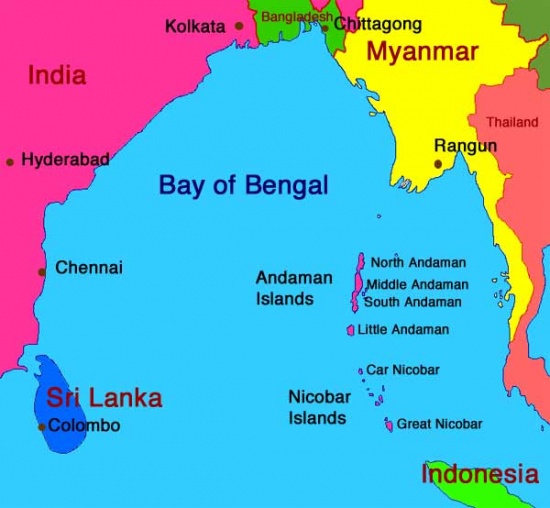 Overview
The Andamans and Nicobars are a group of islands in the Bay of Bengal. Politically they belong to India but they are much closer to Indonesia, Thailand and Myanmar. Both groups are very interesting as they host some endemic species of birds. Most of the 300 or so islands are inhabited and covered with pristine rainforest.
Birds
Notable Species
Endemic birds of the Andamans:
Andaman Teal, Andaman Serpent Eagle, Andaman Crake, Andaman Wood Pigeon, Andaman Cuckoo Dove, Brown Coucal (also on Coco Island), Andaman Scops Owl, Andaman Hawk Owl (also on Nicobars), Andaman Drongo, White-headed Starling (also on Nicobars), Andaman Treepie , Narcondam Hornbill (only Narcondam Island).
Endemic birds of the Nicobars:
Nicobar Scrubfowl, Nicobar Sparrowhawk, Nicobar Parakeet, Nicobar Bulbul, Nicobar Serpent Eagle. The enigmatic Nicobar Pigeon occurs also.
Many other species have distinctive subspecies here and may be split in future.
Rarities
The species list of some 300 birds is growing rapidly and many birds have been recorded that are normally not found in India. Spoon-billed Sandpiper and Nordmann's Greenshank have been recorded and many other rarities will follow.
Check-list
to do
Site Information
History and Use
Long time the islands were out of reach for any foreign visitor. Now the Andamans are easily accesible (at least parts of them), but the Nicobars are still not open for foreign visitors.
Areas of Interest
Vicinity of Port Blair
Mount Harriet
Corbyn's Cove Marsh
Chiriya Tapu
Mahatma Gandi Marine National Park, Wandoor
Narcondam Island
Access and Facilities
There are daily flights to Port Blair, most leaving from Chennai. A ferry from Chennai is also running, but you need a lot of time and seawatching isn't very productive.
Around Port Blair buses are running regularly and with taxis you can reach most parts of South Andaman. However, to reach Narcondam you have to try to get on the police vessel and you are not allowed to stay on the island over night. Hotels and resorts are found mostly around Port Blair.
Make sure to have your entry permit for the Andamans with your Indian visa and plan your visit in advance.

The Nicobar Islands are (yet) closed for foreign visitors and also Indians need special permits to visit the islands. Unless you can join an expediton organised by an Indian University the endemic species of these islands are so far out of reach.
Contact Details
to do
External Links