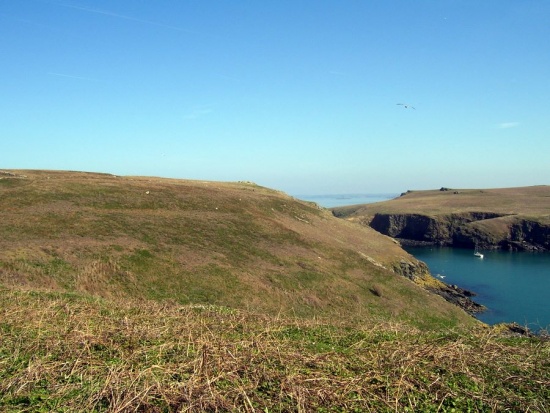 Overview
Separated from the mainland by the narrow Jack Sound, Skomer is the largest, at nearly 300ha, and most accessible of the islands off the Pembroke coast.
Birds
Notable Species
This flat-topped island is a National Nature Reserve and an important site for breeding Red-billed Chough and seabirds, in particular the Manx Shearwater. Around 100,000 pairs nest here along with European Storm-petrel, Northern Fulmar, Shag and Great Cormorant.
There are breeding auks; Atlantic Puffin, Common Guillemot and Razorbill, and gulls; Kittiwake, Herring Gull, Great Black-backed Gull and Lesser Black-backed Gull.
Northern Gannet does not breed but can usually be seen from the island and Common Scoter are present most of the year. Red-billed Chough and Rock Pipit breed on the cliffs.
In addition to seabirds there are breeding Mallard, Oystercatcher, Northern Lapwing and Eurasian Curlew and also Common Buzzard, Peregrine Falcon and Common Kestrel, and Short-eared Owl and Little Owl.
Despite the lack of trees there are Wood Pigeon that nest on the ground, Common Magpie and Carrion Crow, and smaller breeding passerines including Meadow Pipit and Rock Pipit, Pied Wagtail, Common Wren, Dunnock, Blackbird, Sedge Warbler, Whitethroat and Reed Bunting.
In winter the Mallard on the island are joined by Eurasian Wigeon and Common Teal, occasionally other species of duck and, since the early 1980s, by a small flock of Barnacle Goose.
Divers occur on the sea. In autumn small numbers of Blue Tit and Great Tit cross the sound and other common mainland birds such as finches and thrushes are recorded as migrants, but at this time of year there is the chance of a real rarity.
Rarities
Several British "firsts" have been recorded on Skomer including Olive-backed Pipit and Olivaceous Warbler.
Check-list
Birds you can see here include:
Red-throated Diver, Great Northern Diver, Northern Fulmar, Manx Shearwater, European Storm-petrel, Great Cormorant, European Shag, Barnacle Goose, Eurasian Wigeon, Common Teal, Mallard, Northern Shoveler, Common Scoter, Common Buzzard, Common Kestrel, Merlin, Peregrine Falcon, Water Rail, Eurasian Oystercatcher, Northern Lapwing, Common Snipe, Whimbrel, Eurasian Curlew, Ruddy Turnstone, Common Sandpiper, Black-headed Gull, Common Gull, Lesser Black-backed Gull, Herring Gull, Great Black-backed Gull, Black-legged Kittiwake, Common Guillemot, Razorbill, Atlantic Puffin, Stock Dove, Common Woodpigeon, European Turtle Dove, Little Owl, Short-eared Owl, Eurasian Skylark, Meadow Pipit, Rock Pipit, Yellow Wagtail, Pied Wagtail, Sand Martin, Barn Swallow, Northern House Martin, Dunnock, Eurasian Robin, Black Redstart, Common Redstart, Northern Wheatear, Ring Ouzel, Eurasian Blackbird, Fieldfare, Song Thrush, Redwing, Mistle Thrush, Sedge Warbler, Common Whitethroat, Blackcap, Common Chiffchaff, Willow Warbler, Goldcrest, Spotted Flycatcher, European Pied Flycatcher, Red-billed Chough, Eurasian Jackdaw, Carrion Crow, Northern Raven, Common Starling, Chaffinch, European Goldfinch, European Greenfinch, Eurasian Linnet, Reed Bunting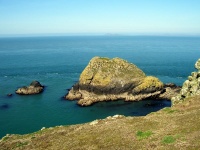 Other Wildlife
Rabbit are abundant and occur alongside Common Shrew and Pygmy Shrew, Wood Mouse and the Skomer Vole, a distinct subspecies of the Bank Vole, larger and paler than those on the mainland.
Skomer is also an important breeding site for Grey Seal.
There is much interest for the botanist with more than 200 flowering plants identified, Bluebells grow in abundance as well as Primrose and Lesser Celandine. Heath Pearlwort, Rock Sea Spurrey and English Stonecrop grow in the grassland areas and Lesser and Marshland Skullcap in the wetter parts. Thrift and other flowers grow on the clifftop turf where Puffins nest.
Site Information
Skomer is best visited in spring and early summer for seabirds and late summer-autumn for migrants, an overnight stay guarantees the visitor nocturnal shearwaters and petrels and gives much more time to explore the island fully.
Access and Facilities
The island can be visited between the beginning of April and mid-September, every day except Monday although it is sometimes closed for a few days in early June.
The earliest boat for Skomer leaves Martins Haven usually at 10.00am and the last return trip in the late afternoon, there is a landing fee. Note that visitor numbers are limited to 250 people per day. Tickets are allocated on a first come first served basis. It is not possible to book day tickets in advance. The ticket office at Martin's Haven opens shortly after 0800 and to make sure of getting on the 1000 boat it is necessary to arrive before 0800 and join the queue for tickets.
Boats also cruise around the island without landing. In the right conditions the evening seabird trip run by Dale Sailing can give good views of the shearwaters gathering on the water at dusk.
There is limited self-catering accommodation on the island.
Warning. In bad weather (wind or Fog) landings or boat trips can be cancelled at short notice.
Contact Details
Wildlife Trust South & West Wales, Welsh Wildlife Centre, Cilgerran, Cardigan, Pembrokeshire SA43 2TB,
T: 01239 - 621600/621212
External Links
Content and images originally posted by Steve