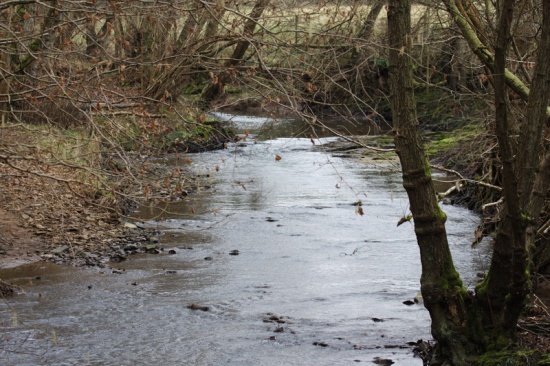 England, Shropshire, Worcestershire
Overview
The Wyre Forest[Map], situated partly in Worcestershire and partly in Shropshire, is one of the most important woodland areas in England and like Hampshire's New Forest, it has survived for centuries through being declared a royal hunting preserve. This is a large area of mainly mature Oak woodland close to the River Severn that is home to an enormous variety of plant and insect species which, in turn supports a fine range of woodland birds.
The forest is split into two main parts by the B4194 and large areas are Forestry Commission plantations. However, the central part of the woodland, along a stream known as the Dowles Brook, is protected as a National Nature Reserve.
In addition to oakwoods and conifer plantations there are Ash and Elm woods, woodland glades and rides, meadows and riparian habitats.
Birds
Notable Species
Breeding species include Woodcock and all three British woodpeckers, Tawny Owl, Common Kestrel, Common Buzzard and Eurasian Sparrowhawk. Northern Goshawk has been recorded, Northern Hobby may be present in summer and Northern Raven have been seen over the forest with more regularity in recent years.
Other woodland birds include Hawfinch, Eurasian Nuthatch and Common Treecreeper and various tits as well as the three species most closely associated with Sessile oakwoods; Pied Flycatcher, Wood Warbler and Common Redstart.
The areas of conifers have Long-eared Owl, Coal Tit and Goldcrest, joined in winter by Common Crossbill, Siskin and Lesser Redpoll. Crossbill and Siskin may in fact breed here on occasion.
Check-list
Birds you can see here include:
Mandarin Duck, Mallard, Eurasian Sparrowhawk, Common Buzzard, Common Kestrel, Northern Hobby, Eurasian Woodcock, Stock Dove, Common Woodpigeon, European Turtle Dove, Common Cuckoo, Little Owl, Tawny Owl, Long-eared Owl, Common Kingfisher, Green Woodpecker, Great Spotted Woodpecker, Lesser Spotted Woodpecker, Barn Swallow, Tree Pipit, Grey Wagtail, Common Wren, Common Dipper, Dunnock, Eurasian Robin, Common Redstart, Eurasian Blackbird, Fieldfare, Song Thrush, Redwing, Mistle Thrush, Common Grasshopper Warbler, Common Whitethroat, Garden Warbler, Blackcap, Wood Warbler, Common Chiffchaff, Willow Warbler, Goldcrest, Spotted Flycatcher, European Pied Flycatcher, Long-tailed Tit, Marsh Tit, Willow Tit, Coal Tit, Blue Tit, Great Tit, Eurasian Nuthatch, Common Treecreeper, Common Jay, Common Magpie, Carrion Crow, Northern Raven, Common Starling, House Sparrow, Chaffinch, Brambling, European Greenfinch, Eurasian Siskin, Lesser Redpoll, Common Crossbill, Hawfinch, Yellowhammer
Other Wildlife
Fallow Deer Cervus dama are common in the forest and other mammals include Red Fox Vulpes vulpes, Badger Meles meles, Stoat Mustela erminea and Weasel Mustela nivalis. Dormouse Muscardinus avellanarius and other small rodents and shrews are also present but rarely seen.
Dowles Brook is clean and fast-flowing with a fine selection of aquatic invertebrates including native crayfish, as well as lampreys, Chub Leuciscus cephalus, Salmon Salmo salar and Trout Salmo trutta.
Like most other areas of ancient woodland the invertebrate fauna of the forest is incredibly rich with a huge number of beetles and especially those associated with decaying timber.
Butterflies number more than thirty species and species such as Peacock Inachis io, Comma Polygonia c-album and Orange Tip Anthocharis cardamines, Brimstone Gonepteryx rhamni, Wood White Leptidea sinapis and Purple Hairstreak Quercusia quercus are common. Fritillaries present include Pearl-bordered Clossiana euphrosyne and Small Pearl-bordered Clossiana selene, High Brown Fabriciana adippe and Silver-washed Argynnis paphia.
Dragonflies include Club-tailed Gomphus vulgatissimus and Southern Hawker Aeshna cyanea and the Demoiselle Calopteryx virgo and White-legged Damselflies Platycnemis pennipes are present. The Wyre Forest is well-known to entomologists for the very rare and localised Enoicyla pusilla Britain's only caddis-fly that has a terrestrial larva. It was first discovered here as a British species and has since been found at very few other sites in the country.
The soils beneath the Wyre Forest are varied and give rise to a very wide range of plant species. The Sessile Oaks Quercus petraea grow on acid soils as well as Birch Betulus pendula with Heather Calluna vulgaris, Bilberry Vaccinium myrtillus and Bracken Pteridium aquilinum growing below. Where the soil contains more clay the Common Oak Quercus robur is more common.
Interesting flowers growing in these woods include Lily-of-the-Valley Convallaria majalis, Intermediate Wintergreen Pyrola media, Wood Crane's-bill Geranium sylvaticum and Bloody Crane's-bill Geranium sanguineum, Columbine Aquilegia vulgaris and Narrow-leaved Helleborine Cephalanthera longifolia. In more alkaline soils the plants include Yellow Rattle Rhinanthus minor, Harebell Campanula rotundifolia, Betony Betonica officinalis and the scarce Green-winged Orchid Orchis morio as well as the unusual Adder's-tongue fern Ophioglossum vulgatum.
Site Information
Areas of Interest
Dowles Brook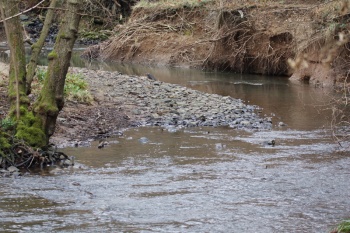 The Dowles Brook is home to Common Kingfisher, Grey Wagtail and Common Dipper with breeding Mallard and the introduced Mandarin Duck can also be found here at times.
For Dowles Brook[Map] take the B4190 road from Bewdley town centre, turning right into Lakes Road after about 1km then continuing through the estate to Dry Mill Lane. Left here leads into the forest, park at the bottom of the hill and walk the footpath along the brook.
Either take this path deeper into the forest or cross the brook at the millhouse and follow the path through Knowles Coppice to the disused railway line and return along this to Dry Mill Lane.
Seckley Wood
Seckley Wood [Map]is another good area closer to the Severn and can be reached on the B4194 Bewdley to Kinlet road, parking at the picnic area on the right.
The main areas of conifers are at New Parks, reached on the A456 Bewdley to Ludlow road. Park at Callow Hill[Map] car-park and follow the marked trails from the visitor centre. The longer walk through mixed woodland and conifer plantation then through oakwoods and down to the Dowles Brook is generally the best for birds.
Access and Facilities
The Wyre Forest can be reached from the A456 Bewdley to Ludlow road or the B4914 Bewdley to Kinlet road.
External Links
Maps

Content and images originally posted by Steve