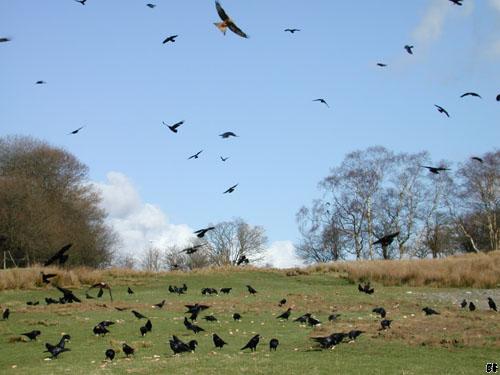 Overview
A composite reserve in the upper reaches of the Wye/Elan river and consisting of 22ha at Dyffryn Wood, 8ha at Cwm yr Esgob and 40ha at Glanllyn.
These are mainly deciduous woodland, mostly Sessile Oak on steep hillsides, but in addition there is 260ha of heather moorland at Carn Gafallt. These areas are among the richest for breeding birds in western Britain.
This is quite an extensive ecosystem and includes the Nagshead & Highnam Woods reserves in addition to the peregrine falcon watch at Symonds Yat
Birds
Notable Species
Breeding birds include Northern Raven and Tawny Owl with typical Welsh woodland birds such as Common Redstart, Wood Warbler and Pied Flycatcher. Other breeders include Garden Warbler and Blackcap, other warblers and Spotted Flycatcher, six species of tits and finches including Siskin and Lesser Redpoll.
Scarce in Wales, Lesser Spotted Woodpecker can also be found here along with both Green Woodpecker and Great Spotted Woodpecker.
On the upper fringes of the woods where they border the moors there are Tree Pipit and Whinchat while higher still are Stonechat, Northern Wheatear and Red Grouse.
Along streams and rivers Goosander, Common Sandpiper, Common Dipper and Grey Wagtail nest. The area is rich in raptors with Sparrowhawk, Common Buzzard and Kestrel breeding and Red Kite and Peregrine Falcon regular.
Check-list
Birds you can see here include:
Goosander, Red Kite, Eurasian Sparrowhawk, Common Buzzard, Common Kestrel, Peregrine Falcon, Red Grouse, Common Pheasant, Eurasian Woodcock, Common Sandpiper, Stock Dove, Common Woodpigeon, Common Cuckoo, Tawny Owl, Common Kingfisher, Green Woodpecker, Great Spotted Woodpecker, Lesser Spotted Woodpecker, Eurasian Skylark, Barn Swallow, Tree Pipit, Meadow Pipit, Grey Wagtail, Pied Wagtail, Common Dipper, Common Wren, Dunnock, Eurasian Robin, Common Redstart, Whinchat, European Stonechat, Northern Wheatear, Eurasian Blackbird, Fieldfare, Song Thrush, Redwing, Mistle Thrush, Garden Warbler, Blackcap, Wood Warbler, Common Chiffchaff, Willow Warbler, Goldcrest, Spotted Flycatcher, European Pied Flycatcher, Long-tailed Tit, Marsh Tit, Willow Tit, Coal Tit, Blue Tit, Great Tit, Eurasian Nuthatch, Common Treecreeper, Common Jay, Common Magpie, Carrion Crow, Northern Raven, Common Starling, Chaffinch, Brambling, European Greenfinch, European Goldfinch, Eurasian Siskin, Lesser Redpoll, Common Bullfinch, Yellowhammer
Other Wildlife
There is a rich and varied flora in these reserves, especially mosses and liverworts. Butterflies recorded include Pearl-bordered, Small Pearl-bordered and Silver-washed Fritillaries, also Purple Hairstreak.
Site Information
Areas of Interest
Gigrin Farm, adjacent to the Dyffryn RSPB, reserve is a winter feeding site for as many as 20-30 Red Kites. Meat is put out for the birds each afternoon and they can be seen at close range from a hide.
Access and Facilities
This area is situated in Powys, in the central uplands of Wales.
Dyffryn Wood lies beside the A470 Rhayader to Brecon road and can be reached from a lay-by just south of Rhayader. Carn Gafallt is open at all times and can be reached by footpath from the minor road between Llanwrthwl and Elan.
Contact Details
RSPB
External Links
Maps
Content and images originally posted by Steve