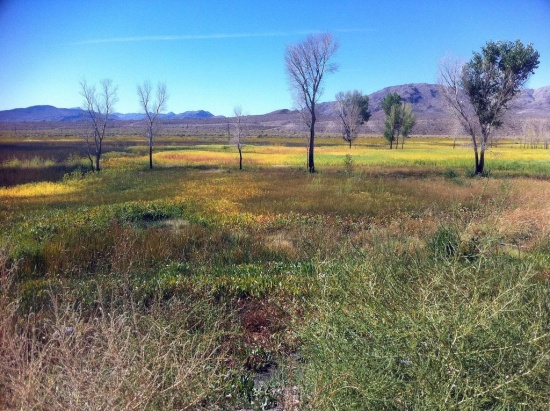 Overview
This is a National Wildlife Refuge in the state of Nevada, administered by the U.S Fish and Wildlife Service, comprising 5380 acres of lakes and marsh surrounded by sagebrush desert.
It is a major migratory resting stop on the Pacific Flyway, and is thus an important stopping point for thousands of waterfowl and other migratory birds during fall and early spring. The birds are attracted by the water, the native grass meadows, and contiguous cultivated croplands. Water in the reservoirs and marshes is managed to create a variety of depths to support diverse populations of birds. The elevation of the major bodies of water is around 3300' (1000m). Over 270 species of birds have been sighted here.
Location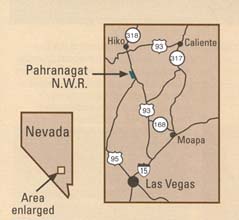 Pahranagat is an oasis in southern Nevada. From Las Vegas one travels north through 90 miles of arid creosote bush desert before reaching Pahranagat. The situation is almost the same for travelers from the north, west, and east except for some juniper and Joshua trees higher in the arid Mojave Desert mountains. Headquarters is located at N37, 16', 06", W 115, 07', 14". Map source: Paharanagat web site
Birds
Notable Species
The diversity of the area, ranging from open desert to cultivated fields, marsh and open water, provides habitat for a variety of birds. Waterfowl and shorebirds are most numerous during the fall and spring migrations. Northern Pintails, teal, Mallards and Redheads are the most common ducks. Great Blue Herons, egrets and other shorebirds are found in the shallow areas of the marshes and lakes. Red-tailed Hawks, Northern Harriers, and other raptors are most abundant in summer.
Warblers, orioles, finches and sparrows are abundant in the cottonwood trees that border the shoreline of the North Marsh and Upper Lake. The cultivated and open field attract Western Meadowlarks, blackbirds, and Mourning Doves. The upland desert is home for Gambel's Quail, Greater Roadrunners, and dry-country sparrows.
Check-list
Birds you can see here include:
Pied-billed Grebe, Eared Grebe, Western Grebe, Double-crested Cormorant, Great Blue Heron, Snowy Egret, Tundra Swan, Canada Goose, Green-winged Teal, Mallard, Northern Pintail, Cinnamon Teal, Northern Shoveler, Gadwall, American Wigeon, Canvasback, Redhead, Common Merganser, Ruddy Duck, Turkey Vulture, Northern Harrier, Red-tailed Hawk, American Kestrel, Gambel's Quail, American Coot, Killdeer, Least Sandpiper, Common Snipe, Wilson's Phalarope, Ring-billed Gull, California Gull, Mourning Dove, Greater Roadrunner, Lesser Nighthawk, Common Nighthawk, Common Poorwill, White-throated Swift, Black-chinned Hummingbird, Western Kingbird, Horned Lark, Tree Swallow, Northern Rough-winged Swallow, Rock Wren, Marsh Wren, Northern Mockingbird, American Pipit, Loggerhead Shrike, European Starling, Lucy's Warbler, Yellow Warbler, Yellow-rumped Warbler, Common Yellowthroat, Blue Grosbeak, Chipping Sparrow, Black-throated Sparrow, White-crowned Sparrow, Dark-eyed Junco, Red-winged Blackbird, Western Meadowlark, Yellow-headed Blackbird, Great-tailed Grackle, Bullock's Oriole, House Finch, Pine Siskin, House Sparrow
Other Wildlife
The usual sage desert mammals, e.g., coyote, badger, mule deer, blacktail jackrabbit, etc.
Site Information
History and Use
The Refuge was established in 1963.
Facilities for hunting and fishing.
Areas of Interest
North Marsh has many of the shorebirds.
Upper Lake, Middle Pond, and Lower Lake provide large areas of open water for ducks, geese, and swans
Access and Facilities
There is no entrance fee
There are several well-signed access points along highway 93
The refuge headquarters is located about midway along this long (10mi.), narrow (0.5-1.0mi) refuge
There is camping along the east shore of Upper Lake, at the north end (Developed site, no services, free in 2007)
Fuel and minimal supplies can be found nearby, to the south along Highway 93
There are facilities for hunting and fishing
Contact Details
Refuge Manager, Pahranagat NWR, P.O. Box 510, Alamo, NV 89901. Phone: (702) 725-3417, email: [email protected]
Assistant Refuge Manager: (775) 725-3417 x305, email: [email protected]
Visitor Services & Environmental Education: (775) 725-3417 x303, email: [email protected]
OR
Refuge Manager, Desert NWR, 1500 N. Decatur Blvd, Las Vegas, NV 89810. Phone: (702) 646-3401
External Links
Much of the information was taken from the information pamphlet published by the U.S. Dept. of Interior, and available at the site.