Aechmophorus occidentalis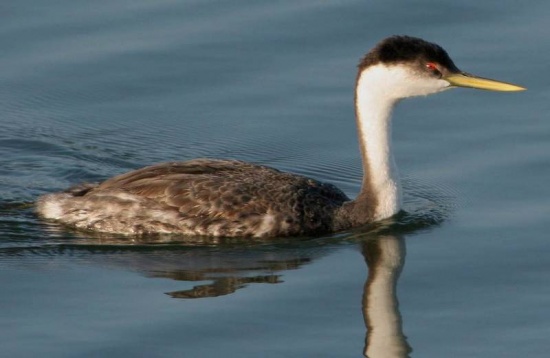 Identification
A large and slender, long-necked North American grebe
Adult Breeding
Blackish-brown above
Mottled flanks and white below

Looks black and white from a distance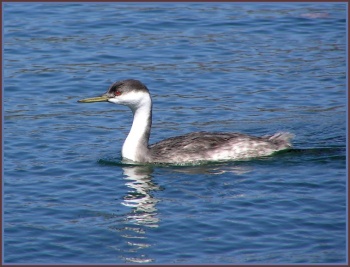 Hindneck and crown blackish-brown
Dark of crown reaches below eye level
Red iris
Bill dark with yellow-green sides
Yellowish-grey legs

Adult Non-breeding and Juvenile
Similar but duller and with less clear-cut contrast between dark and light plumage.
Flight
Upperwing shows bold white bar but less extensive than that of Clark's.
Similar Species
Only likely to be confused with the closely related Clark's Grebe.
Extent of black on face and bill colour are the best features distinguishing this species from Clark's Grebe.
Distribution
Central Alberta to southern Manitoba and in the northern and western USA from Minnesota and South Dakota westwards and south to California and west Mexico. Only recently separated from Clark's Grebe (A. clarkii) and the exact ranges of the two forms have yet to be elucidated. Resident in south-west of range but elsewhere a migrant. Wintering range extends from the southern coast of British Columbia south to west Mexico, in New Mexico and west Texas and on the Gulf Coast of Texas and Louisiana.
Legend


• A. o. occidentalis; year-round
• A. o. occidentalis; breeding
• A. o. occidentalis; migrating
• A. o. occidentalis; wintering
• A. o. ephemeralis; year-round
Maps/Texts consulted1,2,3,4
Vagrancy
Vagrants recorded in the Aleutians and on the Atlantic coast of the USA.
Taxonomy
Subspecies
There are 2 subspecies5:
Western Mexico; not always recognized
None usually recognised although Mexican birds are sometimes separated as ephemeralis.
Habitat
Breeds colonially on large freshwater lakes, winters on large inland waters and sheltered sea coasts.
Behaviour
Breeding
Begins mid-May in south of range to early June in north. Breeds in large colonies, nest is a heap of vegetation anchored to emergent plants or on the bottom in shallower water.
Eggs: 3-4, whitish with green or buff tinge initially, soon becoming stained (59 x 38mm). Incubated by both sexes for 23 days. Young tended by both sexes and leave nest on hatching.
Diet
Fish and aquatic invertebrates.
Vocalisation
Loud and harsh two-note kreek-kreek
References
Sibley, David A. 2000. The Sibley Guide to Birds. New York: Alfred A. Knopf. ISBN 9780679451228
Storer, R. W. and G. L. Nuechterlein. 1992. Western Grebe (Aechmophorus occidentalis). The Birds of North America Online (A. Poole, Ed.). Ithaca: Cornell Lab of Ornithology; Retrieved from the Birds of North America Online: http://bna.birds.cornell.edu/bna/species/026a.
Brinkley, Edward S. 2007. Field Guide to Birds of North America. New York: Sterling Publishing Co., Inc. ISBN 9781402738746
Howell, Steve N.G. and Sophie Webb. 1995. A Guide to the Birds of Mexico and Northern Central America. New York: Oxford University Press. ISBN 9780198540120
Clements, J. F., T. S. Schulenberg, M. J. Iliff, B.L. Sullivan, C. L. Wood, and D. Roberson. 2012. The eBird/Clements Checklist of Birds of the World. 6th ed., with updates to October 2012. Ithaca: Cornell Univ. Press. ISBN 978-0801445019. Spreadsheet available at http://www.birds.cornell.edu/clementschecklist/downloadable-clements-checklist
Recommended Citation
External Links
GSearch checked for 2020 platform.1