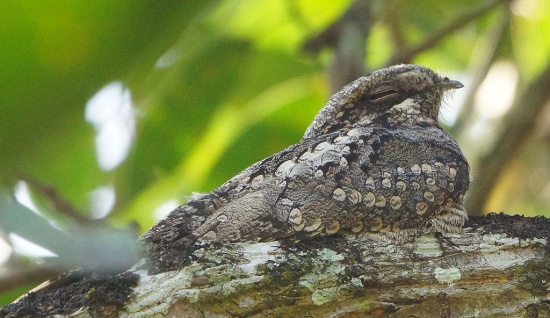 Caprimulgus indicus
Identification
21·5–24 cm (8½-9½ in)
Greyish-brown upperparts with blackish-brown streaking
Distribution
Indian subcontinent.
Taxonomy
Subspecies
Two subspecies recognized[1]:
Formerly considered conspecific with Grey Nightjar and Palau Nightjar.
Habitat
Forests (different types), open woodland, scrubland, farmland, plantations. In Sri Lanka in stony fields. In winter also recorded in big cities.
Behaviour
Nocturnal. Roosts in trees (quite high) and on boulders. Sings from perch or ground.
Breeding
Breeding season from February to August in South India. Lays 1 - 2 eggs on bare ground, usually rocks, covered by vegetation. No nest.
Diet
They feed on a variety of insects, including moths, beetles, flying ants, cicadas, locusts, grasshoppers and small wasps.
References
Clements, J. F., T. S. Schulenberg, M. J. Iliff, D. Roberson, T. A. Fredericks, B. L. Sullivan, and C. L. Wood. 2017. The eBird/Clements checklist of birds of the world: v2017, with updates to August 2017. Downloaded from http://www.birds.cornell.edu/clementschecklist/download/
Rasmussen, PC and JC Anderton. 2005. Birds of South Asia: The Ripley Guide. Barcelona: Lynx Edicions. ISBN 978-8487334672
Gill, F and D Donsker (Eds). 2014. IOC World Bird Names (version 4.3). Available at http://www.worldbirdnames.org/.
Birdforum thread discussing taxonomy of Nightjars and Frogmouths
Handbook of the Birds of the World Alive (retrieved June 2018)
Recommended Citation
External Links
Search the Gallery using the scientific name:
Search the Gallery using the common name:
GSearch checked for 2020 platform.