This article is incomplete.
This article is missing one or more sections. You can help the BirdForum Opus by expanding it.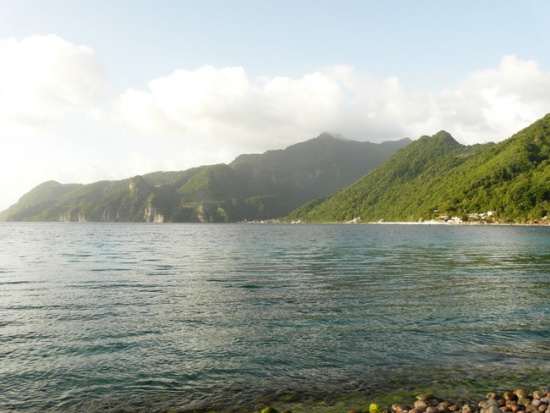 Overview
Dominica is a country (full name: Commonwealth of Dominica) consisting of a single island situated in the Lesser Antilles. This should not be confused with the Dominican Republic, a country situated on the island Hispaniola in the Greater Antilles. Both countries are of course parts of the Caribbean = West Indies. Links to the Wikipedia entry for Dominica and to maps of Dominica are found under "External Links" below.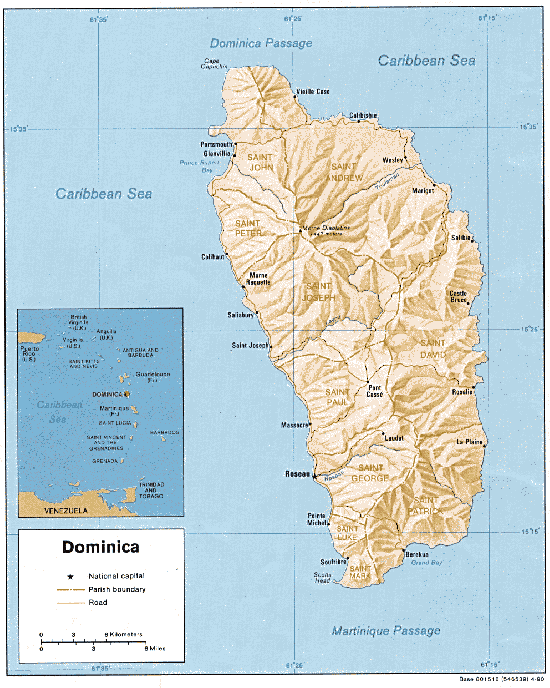 Dominica is a tropical island with a young geological history. It was produced as a result of volcanic activity, and there are still seven active volcanic centers on the island. For this reason, it has a very steep, rugged terrain, with peaks that reach about 4700 feet (1500 meters). The result is that it has still not been possible to build an airport that can take long distance flights, so for access to Dominica, you will need to fly in from e.g., Puerto Rico or Antigua.
Habitats in Dominica
The top of the mountains have elfin forest, and below them, one will find rainforest which in places receive more than 8 meters of annual rainfall. Coastal Scrub Forest is found below that, with the west coast being somewhat drier than the east coast; along the west coast, the areas are dry enough to support succulents (cactus). Swamps, mangrove, etc are quite rare in Dominica, and the only real lakes are man-made. Rivers and streams are numerous, with Layou River the largest.
Rainfall is stronger in the period from June to November, sometimes continuing to January, but even the driest period still have rain showers every few days.
Hurricane Maria
In September 2017, Dominica was impacted by the very strong storm Maria, category 5 on the hurricane scale. This caused a major impact on both the human society and the nature of Dominica. The first reports from the island indicate that the Imperial Parrot was especially strongly impacted by the changes, due to most trees having lost foliage and fruits or even being felled by the storm.
Birds
Notable Species
The description of Lesser Antilles lists a number of bird species that are endemic to that area, including two parrots, Imperial Parrot (Sisserou) and Red-necked Parrot (Jaco), that are endemic to Dominica. Additionally, Dominica has two species that are found there and on one more island each: Plumbeous Warbler in Dominica and Guadeloupe and Blue-headed Hummingbird found in Dominica and Martinique. In all, eleven birds listed as endemic to Lesser Antilles are found in Dominica, and additionally, Dominica has several species that are endemic to the wider Caribbean area.
At least three species have populations in Dominica and surrounding islands that may warrant further study, because they are strongly isolated from other populations of the same species. The "Barn Owl" in Dominica, St. Vincent and Grenada is here listed as Ashy-faced Owl but equally often as a Barn Owl; it might actually warrant specific status. Red-legged Thrush in Dominica is far from the population in the Greater Antilles and warrants further study. Antillean Euphonia in the Lesser Antilles has much less if any sexual dimorphism as opposed to the Antillean Euphonia in the Greater Antilles. The Brown Thrasher in Dominica and St. Vincent seems to be a different species when compared to the Guadeloupe birds, but populations north of Guadeloupe should be studied.
Birding in Dominica
Most target species for a traveling birder can be seen with one-two full days of birding. The Imperial Parrot and the Ruddy Quail Dove are not so easy and cannot be guaranteed during a short visit. In one week, an active birder should collect a species list around 50-55. Living in Dominica a full year, working but being active when given a chance, produced 80 species including a couple of surprise visitors. A link below will go to a page including the complete list of birds ever seen in Dominica (176 at last count); many of these have only been seen very few times. The list given under "Check-list" include only species seen relatively regularly.
Rarities
About one third of the species on the complete Dominica list should be classified as vagrants. Obviously there is no way of telling where the next occurrence of such a vagrant will happen, but the list of recent additions to the bird list includes for example American Coot, House Sparrow, and Nutmeg Mannikin, of which the latter now is a resident breeder. Other remarkable observations includes a second observation for the island of Yellow-throated Vireo following 100 years after the first observation. Generally, American warblers are scarce on the island, most of these will be vagrants if you find one.
Check-list
Birds you can see here include:
Pied-billed Grebe, White-tailed Tropicbird, Red-footed Booby, Brown Booby, Magnificent Frigatebird, Great Blue Heron, Great Egret, Little Blue Heron, Snowy Egret, Cattle Egret, Green Heron, Yellow-crowned Night-Heron, Osprey, Broad-winged Hawk, American Kestrel, Merlin, Common Gallinule, Semipalmated Plover, Short-billed Dowitcher, Spotted Sandpiper, Semipalmated Sandpiper, Pomarine Jaeger, Laughing Gull, Royal Tern, Roseate Tern, Brown Noddy, Scaly-naped Pigeon, Eurasian Collared Dove, Zenaida Dove, Common Ground-Dove, Ruddy Quail-Dove, Red-necked Parrot, Imperial Parrot, Mangrove Cuckoo, Smooth-billed Ani, Barn Owl, Antillean Nighthawk, Black Swift, Lesser Antillean Swift, Purple-throated Carib, Green-throated Carib, Antillean Crested Hummingbird, Blue-headed Hummingbird, Belted Kingfisher, Ringed Kingfisher, Caribbean Elaenia, Lesser Antillean Pewee, Lesser Antillean Flycatcher, Gray Kingbird, Caribbean Martin, Barn Swallow, House Wren, Tropical Mockingbird, Brown Trembler, Scaly-breasted Thrasher, Pearly-eyed Thrasher, Forest Thrush, Rufous-throated Solitaire, Red-legged Thrush, American Bare-eyed Thrush, Nutmeg Mannikin, Black-whiskered Vireo, Yellow Warbler, Plumbeous Warbler, Bananaquit, Antillean Euphonia, Black-faced Grassquit, Lesser Antillean Bullfinch, Lesser Antillean Saltator, Carib Grackle
Other Wildlife
In addition, there are endemic reptiles, insects, and plants in Dominica.
Site Information
See the entry on Syndicate for information on one of the most often visited sites in Dominica.
Access and Facilities
Dominica is an independent country with English as national language. Many people talk a French-based patois among themselves but switch to English when speaking to you unless they assume you are local. Dominica is part of CARICOM, a Caribbean economic organization, and uses the Eastern Caribbean Dollar (XCD) which is tied to the US dollar with an exchange rate of 2.67. You can use US$ cash in many local shops, but naturally will pay a penalty in the form of unfavorable exchange rate.
Main Airline visiting the island is LIAT (connecting to Antigua and several other Caribbean islands). Most flights arrive in Melville Hall Airport, but with LIAT, there is always the off chance that you would arrive in Canefield at the opposite side of the island. Night-landing has been possible in Dominica, but with the effects of recent hurricane Maria, it is unknown if and when it will be reestablished.
Access is also possible using a passenger ferry from one of the neighboring French islands of Guadeloupe or Martinique.
Contact Details
To do
External Links
Recommended Citation
GSearch checked for 2020 platform.1