Geographic Definition
A look in Wikipedia for the Lesser Antilles will tell you that the area includes the islands around the eastern end of the Caribbean Sea from Trinidad in the south to the US Virgin Islands in the north; the division would therefore be between US Virgin Islands and Puerto Rico with the latter belonging to the Greater Antilles. Another couple of commonly used designations would be Leeward Islands and Windward Islands: these designations were used by the British colonial powers to describe two administrative units, but the definitions changed over time with e.g., Dominica alternating between one and the other group.
Bio-geographic Definition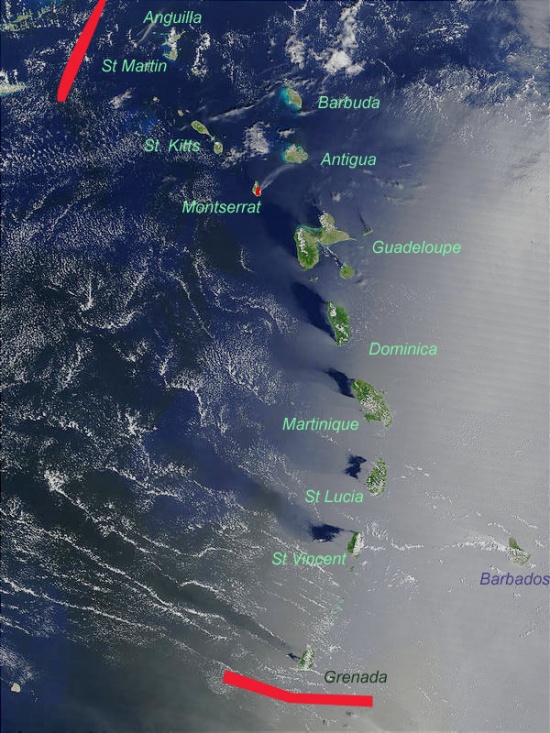 In a bio-geographic sense, it makes more sense to divide according to the widest inter-island distances causing the most differences in flora and fauna. If this is applied, the divisions should be between Grenada and Trinidad & Tobago in the Southern end: Trinidad is 11 km from Venezuela and contains an almost entirely South American bird fauna while the distance between Grenada and T&T is well over 100 km. In the northern end the biggest gap is the Anegada Passage, again more than 100 km. Therefore, the islands that are relevant here are (with parent country in parentheses, if relevant):
Anguilla (United Kingdom)
Saint Martin/Sint Maarten (France/Neth. Antilles)
Saint-Barthélemy (Fr.)
Saint Kitts (St. Kitts and Nevis)
Barbuda (Antigua and Barbuda)
Antigua (with Redonda)
Montserrat (UK)
Guadeloupe (Fr.) La Désirade (Fr.) Les Saintes (Fr.) Marie-Galante (Fr.)
Martinique (Fr.)
Saint Vincent including The Grenadines (Saint Vincent and The Grenadines)
Birdlife of the region
The Caribbean overall and thereby also the Lesser Antilles is a center of endemism. Many islands have at least one bird that is endemic to only that one, and in addition, there are several species that cover from two to ten islands in their distribution area. The number of species is lower than on many mainland locations of a similar size (lower biodiversity), but on the other hand, the region contains a lot of unique biological experiences. Bird species endemic to the region are given below, with some comment about how widespread they are in parenthesis:
Grenada Dove (single island endemic)
Red-necked Parrot (single island endemic)
St. Lucia Parrot (single island endemic)
St. Vincent Parrot (single island endemic)
Imperial Parrot (single island endemic)
Lesser Antillean Swift (five islands)
Purple-throated Carib (the entire area)
Blue-headed Hummingbird (two islands)
Guadeloupe Woodpecker (single island endemic)
Grenada Flycatcher (two islands)
Lesser Antillean Flycatcher (seven islands)
Forest Thrush (four islands)
White-breasted Thrasher (two islands)
Scaly-breasted Thrasher (almost the entire area)
Brown Trembler (up to ten islands; tremblers is a group unique to the Lesser Antilles)
Grey Trembler (two islands))
Barbuda Warbler (single island endemic)
St. Lucia Warbler (single island endemic)
Plumbeous Warbler (two islands)
Whistling Warbler (single island endemic)
Lesser Antillean Tanager (two islands)
Lesser Antillean Saltator (four islands)
Lesser Antillean Bullfinch (most islands)
Barbados Bullfinch (single island endemic)
St. Lucia Black Finch (single island endemic)
St. Lucia Oriole (single island endemic)
Montserrat Oriole (single island endemic)
Martinique Oriole (single island endemic)
(Contrary to its name, Lesser Antillean Pewee is also found in Puerto Rico of the Greater Antilles)
In addition, there are plenty of endemic subspecies, several of which may warrant species status. Several other species occur in the Lesser Antilles and in some of the rest of Caribbean.
It should perhaps be noted that there are examples of bird groups that originated within the Lesser Antilles; for example the two species of thrashers belonging to Margarops (Scaly-breasted Thrasher and Pearly-eyed Thrasher) and the Tremblers (Brown Trembler and Grey Trembler) together constitute such a group. The White-breasted Thrasher is the only member of its genus.
Conservation Issues
Many of the areas in the Lesser Antilles belong to small, poorly developed countries with a poor tradition for environmental advocacy. It is therefore no surprise that urban sprawl and development projects (for example tourist resorts with golf clubs and casinos) are encroaching on natural habitat. Some of the species will therefore have a very uncertain future.
References
link to the unmodified image at the Visible Earth project at NASA. The image is a true-color Moderate Resolution Imaging Spectroradiometer (MODIS) image from September 20, 2002; the red spot in Montserrat is a thermal signature which could be the Soufriere Hills volcano.
Recommended Citation
Subcategories
This category has only the following subcategory.
B
Pages in category 'Lesser Antilles'
The following 12 pages are in this category, out of 12 total.