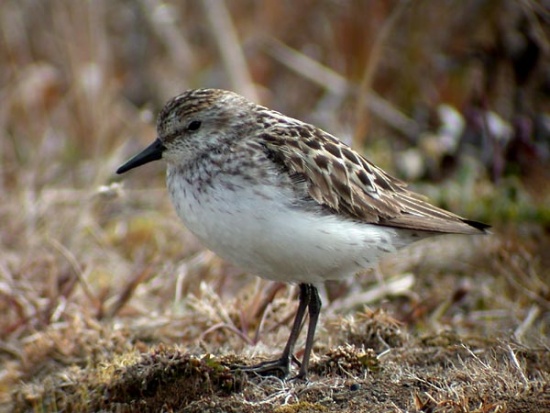 Calidris pusilla
Identification
13–15 cm (5-6 in)
Dark legs with partially webbed toes (best seen from rear), short, dark, straight bill, thinner at the tip but not as thin as Western Sandpiper. Most birds have shorter bills than Western Sandpiper but there is much overlap.
Breeding: pale basic color more ochre-brown than on Western Sandpiper with fewer and smaller dark spots on underside and mantle, scapulars with black centers but not showing a strong reddish-brown contrast, and brown or crown and ear-coverts less reddish and contrasting than on Western Sandpiper.
Winter: mostly pale grey upperside, white underside with darker ear-coverts and upper breast.
Juvenile: more uniform on back than western (lacking rufous V) but with a strong scaled effect, pale underside, darker ear-coverts and upper breast than Western Sandpiper. Dark stripes on crown can produce an effect as a dark cap.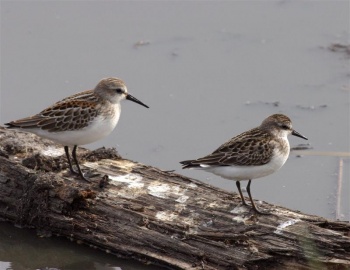 Confusion Species
Western Sandpiper: which has a longer bill
Distribution
Breeds Arctic North America; winters to southern South America, less commonly in the Caribbean and Central America.
Migration to a large extent takes place as a non-stop flight from eastern Canada or New England to South America.
Vagrants appear in Europe most years.
Taxonomy
This is a monotypic species[1].
Habitat
They breed in tundra near water. On passage and their wintering grounds is frashwater and salt marshes, coastal bays, lakes and mudflats.
Gallery
Click on photos to enlarge the images
Behaviour
Breeding
The female chooses one from several shallow scrapes formed by the male. The four eggs are incubated by both adults.
Diet
The diet includes aquatic insects and crustaceans, foraged for on mudflats.
References
Clements, J. F., T. S. Schulenberg, M. J. Iliff, D. Roberson, T. A. Fredericks, B. L. Sullivan, and C. L. Wood. 2018. The eBird/Clements checklist of birds of the world: v2018. Downloaded from http://www.birds.cornell.edu/clementschecklist/download/
Collins Field Guide 5th Edition
Collins Bird Guide ISBN 0 00 219728 6
BF Member observations
Wikipedia
Recommended Citation
External Links
Search the Gallery using the scientific name:
Search the Gallery using the common name:
GSearch checked for 2020 platform.