This article is incomplete.
This article is missing one or more sections. You can help the BirdForum Opus by expanding it.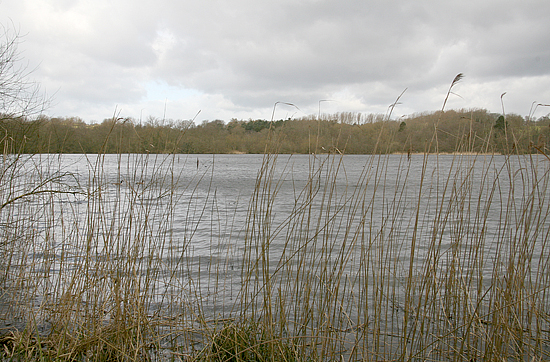 Overview
Cop Mere is a shallow lake to the west of Eccleshall. Good numbers of waterfowl in the winter.
Birds
Specialities
Tufted Duck, Goosander, Common Coot,
Rarities
Bewick's Swan; Black-necked Grebe; Red-necked Grebe; Falcated Duck; Common Eider; Red-breasted Merganser; Great White Egret;Caspian Gull; Glaucous Gull; Iceland Gull; Cetti's Warbler; Bearded Reedling;
Check-list
Please add the extras species previous contributors not seen and adjust the total:
Birds you can see here include:
Mute Swan, Bewick's Swan, Pink-footed Goose, Greylag Goose, Canada Goose, Egyptian Goose, Mandarin Duck, Eurasian Wigeon, Gadwall, Garganey, Teal, Mallard, Northern Pintail, Northern Shoveler, Red-crested Pochard, Common Pochard, Tufted Duck, Greater Scaup, Common Scoter, Common Eider, Common Goldeneye, Smew, Red-breasted Merganser, Goosander, Ruddy Duck, Little Grebe, Great Crested Grebe, Red-necked Grebe, Black-necked Grebe, Cormorant, Little Egret, Great White Egret, Grey Heron, Eurasian Sparrowhawk, Common Buzzard, Common Kestrel, Eurasian Hobby, Peregrine, Water Rail, Common Moorhen, Common Coot, Oystercatcher, Lapwing, Woodcock, Curlew, Common Sandpiper, Black-headed Gull, Common Gull, Lesser Black-backed Gull, Herring Gull, Yellow-legged Gull,Caspian Gull, Glaucous Gull; Iceland Gull, Great Black-backed Gull, Black Tern, Arctic Tern, Stock Dove, Woodpigeon, Eurasian Collared Dove, Common Cuckoo, Little Owl, Tawny Owl, Common Swift, Kingfisher, Green Woodpecker, Great Spotted Woodpecker, Lesser Spotted Woodpecker, Sky Lark, Sand Martin, Swallow, House Martin, Grey Wagtail, Bohemian Waxwing, Wren, Dunnock, Blackbird, Fieldfare, Song Thrush, Redwing, Mistle Thrush, Cetti's Warbler, Sedge Warbler, Common Reed Warbler, Blackcap, Garden Warbler, Lesser Whitethroat, Common Whitethroat, Common Chiffchaff, Willow Warbler, Goldcrest, Spotted Flycatcher, Bearded Reedling, Long-tailed Tit, Blue Tit, Great Tit, Coal Tit, Willow Tit, Marsh Tit, Eurasian Nuthatch, Eurasian Treecreeper, Eurasian Jay, Eurasian Magpie, Eurasian Jackdaw, Rook, Carrion Crow, Raven, House Sparrow, Eurasian Tree Sparrow, Chaffinch, European Greenfinch, European Goldfinch, Eurasian Siskin, Lesser Redpoll, Bullfinch, Yellowhammer, Reed Bunting.
Very incomplete total = 118
Please note: The only approved and complete list of birds for this site is held within the Staffordshire birds database - contact the Staffordshire County Bird Recorder for details.
Other Flora and Fauna
Adder's Tongue fern grows in field alongside the mere while Toothwort grows under Hazel on the north side. Herb Paris grows in adjacent woodland.
Site Information
Cop Mere is a shallow lake lying in a hollow in Keuper Marl. In many respects it is an outlier of the series of meres concentrated in North Shropshire and Cheshire. However, it differs from many of the meres in having a distinct inflow and outflow, the River Sow enters the mere at the western end and leaves at the eastern end. A reed bed fringes the northern and eastern sides. The north and south banks are steep but the south side affords a good view of the lake. The western end of the lake is an alder/willow swamp and is not accessible. Being only 2 to 3m deep at the most, it is attractive to diving duck and dabbling duck.
Times of Interest
Winter is the best time when there are regularly good numbers of waterfowl. In summer there are breeding Common Reed Warbler.
Access and Facilities
You can park by the outflow from the mere - room for 3 to 4 cars. There is no access to the lake shore. However you can view from Roy Went's viewpoint by the side of the minor road. There is also a circular public footpath though this only allows restricted views of the mere. The Star Inn is by the side of the mere.
Survey work known
Monthly Wildfowl and Wetland Trust duck counts have been carried out since the early 1990s.
Regularly bird-watched by:
add names; dwe, PJ
References
External Links
Please add if any reputable and non-commercial sites are known.
Other sites nearby are:
Staffordshire Wildlife Trusts' reserves of Loynton Moss, Jackson's Coppice and Marsh and English Nature's reserve of Aqualate Mere.
Reviews
Please add any visit details