This article is incomplete.
This article is missing one or more sections. You can help the BirdForum Opus by expanding it.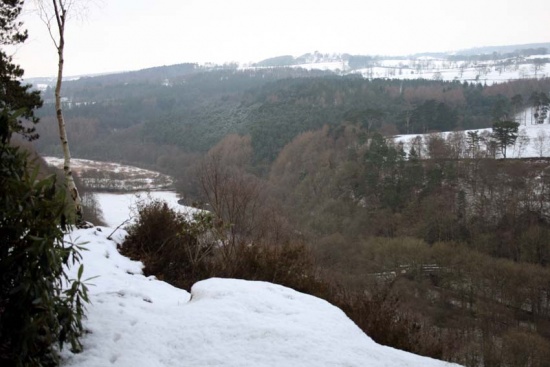 Overview
This secluded valley in Staffordshire is narrow and steep-sided with the Coombes Brook winding its way through mature oakwoods and younger, more mixed woodland.
After centuries of exploitation for charcoal and timber the woodlands are now managed to preserve and encourage the native trees by replanting and the clearance of introduced aliens such as rhododendron.
Birds
Notable Species
Breeding birds of the valley include typical oakwood birds such as Common Redstart, Wood Warbler and Pied Flycatcher, as well all three British woodpeckers and various tits including Willow Tit, warblers and finches. Tree Pipits occur in the more open areas in summer and Woodcock can be seen roding on summer evenings from Clough Meadow or the new view point.
Predatory birds include Eurasian Sparrowhawk and Little, Tawny and Long-eared Owls. Common Kingfisher, Grey Wagtail and Common Dipper occur along the stream and Grey Heron is commonly seen. There is a large rookery in the area.
Check-list
Birds you can see here include:
Grey Heron, Eurasian Sparrowhawk, Eurasian Woodcock, Common Cuckoo, Barn Owl, Little Owl, Tawny Owl, Long-eared Owl, Common Kingfisher, Eurasian Green Woodpecker, Great Spotted Woodpecker, Lesser Spotted Woodpecker, Tree Pipit, Grey Wagtail, Common Wren, White-throated Dipper, Dunnock, European Robin, Common Redstart, Eurasian Blackbird, Fieldfare, Song Thrush, Redwing, Mistle Thrush, Common Whitethroat, Garden Warbler, Blackcap, Wood Warbler, Common Chiffchaff, Willow Warbler, Goldcrest, Spotted Flycatcher, European Pied Flycatcher, Willow Tit, Coal Tit, Blue Tit, Great Tit, Eurasian Nuthatch, Eurasian Treecreeper, Common Jay, Eurasian Magpie, Rook, Carrion Crow, Northern Raven, Common Starling, Chaffinch, European Greenfinch, European Goldfinch, Lesser Redpoll, Yellowhammer
Other Wildlife
As well as birds the reserve has breeding populations of Common Frog Rana temporaria, Common Toad Bufo bufo and newts, Grass Snake Natrix natrix is common and Common Lizard Lacerta vivipara and Slow Worm Anguis fragilis are found in the drier parts.
Butterflies are both varied and abundant with twenty-four species recorded including Grizzled Skipper Pyrgus malvae, Green Hairstreak Callophrys rubi and High Brown Fritillary Fabriciana adippe commonly seen along the reserve trail. More than 1200 species of beetle have been identified on the reserve.
Similarly, plants are also diverse with the woods brightened by Bluebells Endymion non-scriptus, Primroses Primula vulgaris and Red Campion Silene dioica and the more open areas have Adder's-tongue Fern Ophioglossum vulgatum and Lousewort Pedicularis sylvatica. Orchids include Greater Butterfly Platanthera chlorantha and Common Spotted Dactylorhiza fuchsii.
Site Information
History and Use
To do
Areas of Interest
For pied flycatcher and redstart, the best areas are just after the first footbridge (going clockwise around the reserve) and in Clough Meadow. The pond area is also popular with both species. However, both species can be seen all around the reserve. Clough Meadow is also the best place to see tree pipit and roding woodcock.
The new view point and viewing platform can both produce lesser whitethroat throughout spring and summer.
Both footbridges are worth stopping and looking from as both are good points to look for dipper, grey wagtail and possibly dipper.
For botanical interest, the meadow directly in front of the viewing platform is worth a look. It contains species such as pignut, greater butterfly orchid, and lesser celandine, as well as a whole host of other grass and herb species.
The new Buzzard Bank area offers great views across the valley. It also holds some common newts and possibly grass snakes too.
Access and Facilities
Coombes Valley lies to the south of the A523 Leek-Ashbourne road. About 5km south of Leek take the minor road towards Apesford and the reserve is on the left after about 1.5km.
The RSPB land in the Churnet Valley is accessed via Consall, roughly 2km from the A522. Parking is available at the council owned Consall site, or by the limekilns by the Black Lion public house and Churnet Valley Railway.
There is an information centre at Coombes, which contains a hot drinks machine. There are also toilet facilities on site. There are several themed carved benches around Coombes Valley, offering great views and a place to rest.
There are currently no facilities at the Churnet Valley site.
Grid reference: Coombes Valley SK009534 Churnet Valley SK000489
Open from dawn until dusk and entry is free (but donations gratefully received!). Closed on Christmas day apart from the public footpaths running through both sites.
Contact Details
RSPB. Tel 01538 384017
External Links

Content and images originally posted by Steve
Reviews
Malcolm Fisher's review
A nice reserve in a nice location. Very steep hills however! Pros
Beautiful location and very quiet. There are long views from the hilltop
and the centre and carpark are both good and includes a feeding station. Lots of nesting boxes are to be seen
and there is a very attractive stream at the bottom of the valley.
Cons
Make sure you do not have any problems with severe slopes. I found it very hard going to get round the reserve. Anyone with asthmna
arthritis or any condition that might be aggravated by hard walking take note! However
to a fit person
it would be ok Im
jinglebird's review
Redstarts, Willow and Wood Warblers, Spotted and Pied flycatchers , Pied and Grey Wagtails and a Dipper made this a lovely day. Pros