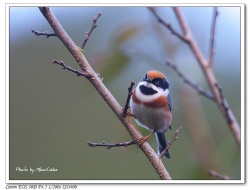 Family: Aegithalidae
Description
Long-tailed Tits from Europe and Asia.
Tiny birds with a relatively long tail. Sexes are similar (except in genus Leptopoecile).
Taxonomy
Aegithalidae is a family in the Order Passeriformes.
The Tit-Warblers were formerly placed in the family Sylviidae but recent studies based on mitochondrial DNA indicate that it belongs to the present family. However, further research is required.
References
Clements, JF. 2011. The Clements Checklist of Birds of the World. 6th ed., with updates to August 2011. Ithaca: Cornell Univ. Press. ISBN 978-0801445019. Spreadsheet available at http://www.birds.cornell.edu/clementschecklist/downloadable-clements-checklist
Del Hoyo, J, A Elliott, and D Christie, eds. 2008. Handbook of the Birds of the World. Volume 13: Penduline-tits to Shrikes. Barcelona: Lynx Edicions. ISBN 978-8496553453
Recommended Citation
Subcategories
This category has the following 3 subcategories, out of 3 total.