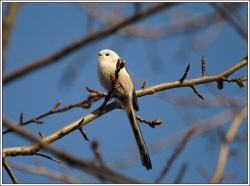 Genus: Aegithalos
Description
Typical Long-tailed Tits from Europe and Asia.
Species of this genus often look like a tiny, fluffy ball and are usually strikingly patterned. They also share:
Tiny bills
A very small body
A disproportionately long tail
Short and round wings with 10 primaries
No difference between males and females
Taxonomy
Aegithalos is a genus in the family Aegithalidae.
The genus is morphologically very homogenous. However, the exact number of species is not yet clear and future splits are well possible.
References
Clements, JF. 2011. The Clements Checklist of Birds of the World. 6th ed., with updates to August 2011. Ithaca: Cornell Univ. Press. ISBN 978-0801445019. Spreadsheet available at http://www.birds.cornell.edu/clementschecklist/downloadable-clements-checklist
Del Hoyo, J, A Elliott, and D Christie, eds. 2008. Handbook of the Birds of the World. Volume 13: Penduline-tits to Shrikes. Barcelona: Lynx Edicions. ISBN 978-8496553453
Recommended Citation
Pages in category 'Aegithalos'
The following 9 pages are in this category, out of 9 total.