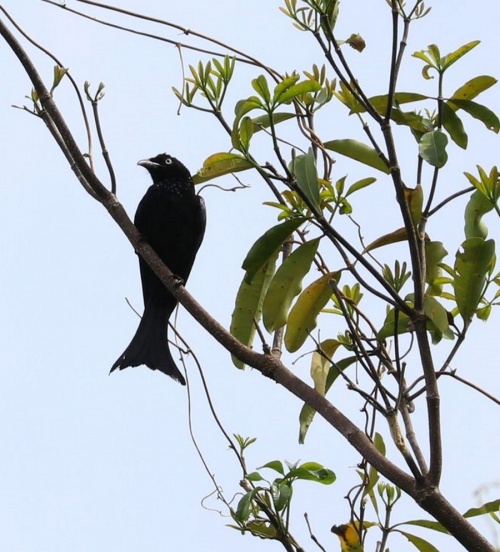 Alternative names: Celebes Drongo; Celebes Mountain Drongo; Sulawesi Spangled Drongo
Dicrurus montanus
Identification
25cm (9¾ in)
Strongly bluish-black plumage with purple iridescence
Short neck hackles, relatively small and narrow breast spangles
Long and deeply forked tail, tips of outer rectrices curving upwards
Brown or dark brown-red eye
Straight black bill
Sexes similar, females are smaller but have a longer tail. Juveniles are undescribed.
Similar species
The local form leucops of Hair-crested Drongo is bigger (especially bill and feet), has a white eye and a less forked tail with tips of outer rectrices much more curving upwards.
Distribution
Sulawesi endemic. South East Asia: Indonesia: Greater Sundas. Uncommon to locally fairly common.
Taxonomy
This is a monotypic species[1]. Has been considered conspecific with Hair-crested Drongo and belongs to a superspecies with Hair-crested Drongo, Sumatran Drongo, Wallacean Drongo, Balicassiao, Spangled Drongo and Ribbon-tailed Drongo.
Occasionally found in the same area as Hair-crested Drongo (subspecies leucops) in the northern peninsula but the two forms are apparently reproductively isolated.
Habitat
Forest and woodland from 550m up to 1800m.
Behaviour
Diet
Feeds on insects.
Mainly seen singly or in pairs, joins mixed-species flocks with Malia, Sulawesi Fantail, Yellow-billed Malkoha and Sulawesi Leaf Warbler.
Breeding
No information about breeding.
Movements
A resident species.
References
Clements, J. F., T. S. Schulenberg, M. J. Iliff, D. Roberson, T. A. Fredericks, B. L. Sullivan, and C. L. Wood. 2018. The eBird/Clements checklist of birds of the world: v2018. Downloaded from http://www.birds.cornell.edu/clementschecklist/download/
Del Hoyo, J, A Elliott, and D Christie, eds. 2009. Handbook of the Birds of the World. Volume 14: Bush-shrikes to Old World Sparrows. Barcelona: Lynx Edicions. ISBN 978-8496553507
Recommended Citation
External Links