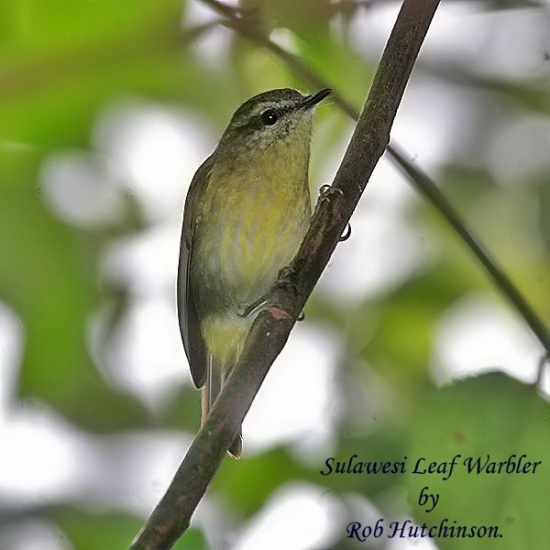 Phylloscopus nesophilus
Identification
11 cm. A small to medium-sized Leaf Warbler.
Brownish upperparts tinged olive-green
Brown forehead and sides of crown and nape
Supercilium paler than surroundings
Dark brown lores and narrow eyestripe
Slightly darker brown flight-feathers, edged olive-green
Pale brown tail, outer Rectrices show some white when spread
Underparts whitish or washed yellowish, breast side and flanks with olive or olive-grey wash
Dark horn bill, base of lower mandible pale yellow or yellowish-orange
Slate-grey legs
Sexes similar, juveniles undescribed
Similar species
Lompobattang Leaf Warbler shows a pale central crown stripe and a wing bar, in addition to having a wing bar.
Arctic Warbler, Kamchatka Leaf Warbler, and Japanese Leaf Warbler which occur as migrants all appear paler in the field and has a pale wing bar but lacks white in tail and central crown stripe.
Distribution
Endemic to mountains in most of Sulawesi, Indonesia (except the south-west area).
A common to very common restricted-range species.
Taxonomy
This is a monotypic species[1].
Formerly included Lompobattang Leaf Warbler.
Habitat
Found in montane moss forest and forest edges. Occurs between 600 and 3500 m.
Behaviour
Diet
Feeds on small insects.
Forages singly or in pairs, also in mixes-species flocks. Usually in middle levels and canopy of forest.
Breeding
Eggs recorded in mid-September. No other information available.
Movements
This is a sedentary species.
Vocalisation
Described as rambling and varied, more so than the Lompobattang Leaf Warbler.
References
Clements, J. F., T. S. Schulenberg, M. J. Iliff, T. A. Fredericks, J. A. Gerbracht, D. Lepage, S. M. Billerman, B. L. Sullivan, and C. L. Wood. 2022. The eBird/Clements checklist of Birds of the World: v2022. Downloaded from https://www.birds.cornell.edu/clementschecklist/download/
Gill, F, D Donsker, and P Rasmussen (Eds). 2023. IOC World Bird List (v 13.2). Doi 10.14344/IOC.ML.13.2. http://www.worldbirdnames.org/
Handbook of the Birds of the World Alive (retrieved Jan 2018)
Eaton, JA, B van Balen, NW Brickle, FE Rheindt 2021. Birds of the Indonesian Archipelago (Greater Sundas and Wallacea), Second Edition. Lynx Editions. ISBN978-84-16728-44-2
Clement, P. (2022). Sulawesi Leaf Warbler (Phylloscopus nesophilus), version 1.1. In Birds of the World (B. K. Keeney, Editor). Cornell Lab of Ornithology, Ithaca, NY, USA. https://doi.org/10.2173/bow.sulwar1.01.1
Recommended Citation
External Links
GSearch checked for 2020 platform.1