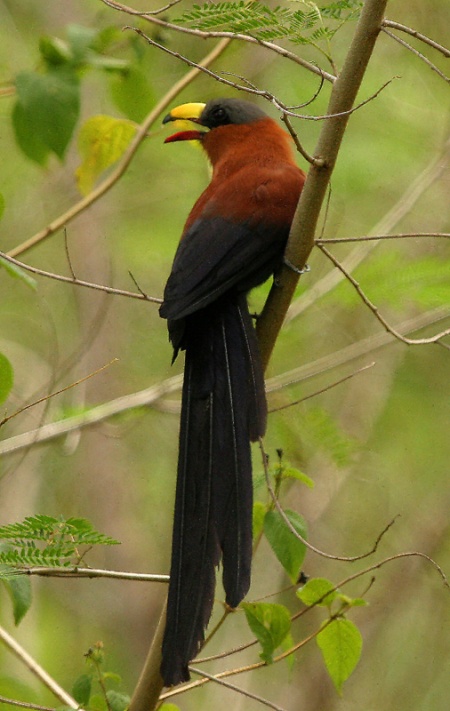 Alternative names: Sulawesi Malkoha
Rhamphococcyx calyorhynchus
Phaenicophaeus calyorhynchus
Identification
53cm. The only Malkoha on Sulawesi
upperparts rufous-maroon
crown and face dark grey
wings dark purple
tail black
throat and breast rufous
belly dark grey
bill yellow above, black tip with white spot and red below nostril and on lower mandible
Variation
calyorhynchus is darker, meridionalis paler on underparts and on crown, rufiloris has dark rufous above lores rather than grey.
Distribution
Endemic to Sulawesi (Indonesia) and some adjacent islands.
A poorly known species.
Taxonomy
Formerly placed in Phaenicophaeus.
Subspecies
Clements recognises the following subspecies [1]:
R. c. calyorhynchus: Sulawesi and Togian Islands
R. c. meridionalis: Central and southern Sulawesi
R. c. rufiloris: Butung Island (off Sulawesi)
Habitat
Moist lowland forests.
From sea-level up to 1300m.
Behaviour
Diet
Feeds on insects: follows macaques and catches insects they stir up. Also hops and creeps around in the canopy like a squirrel. Also follows Bay Coucal.
Breeding
Breeding season from November to December. The nest is undescribed.
Movements
A resident species.
References
Clements, J. F., T. S. Schulenberg, M. J. Iliff, D. Roberson, T. A. Fredericks, B. L. Sullivan, and C. L. Wood. 2014. The eBird/Clements checklist of birds of the world: Version 6.9., with updates to August 2014. Downloaded from http://www.birds.cornell.edu/clementschecklist/download/
Del Hoyo, J, A Elliot, and J Sargatal, eds. 1997. Handbook of the Birds of the World. Volume 4: Sandgrouse to Cuckoos. Barcelona: Lynx Edicions. ISBN 978-8487334221
Gill, F and D Donsker (Eds). 2012. IOC World Bird Names (version 3.2). Available at http://www.worldbirdnames.org/.
BF Member observations
Recommended Citation
External Links