Disambiguation: this page is for the Spanish province of Extremadura. For sites in Estremadura, see Portugal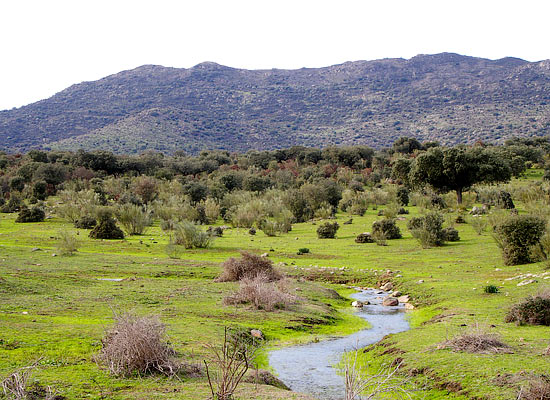 Overview
Extremadura lies in the central western area of Spain, in a line roughly between Madrid and Seville, sharing its west border with Portugal. Famous throughout the world as one of the best and easiest places to see the many species of Raptor that breed here. A mix of high mountain, steppe, woodland and wetland makes this area unique. With a population density of 23 people per square kilometre, Extremadura is the least populated area of Europe, leaving vast areas of land perfect for birds and animals.
Birds
Notable Species
The top 20 species that visitors have on their "hit list" according to the Extremadura Tourist Board, are Spanish Imperial Eagle, Bonelli's Eagle, Cinereous Vulture, Black-shouldered Kite, Lesser Kestrel, Black Stork, White Stork, Great Bustard, Little Bustard, Pin-tailed Sandgrouse, Black-bellied Sandgrouse, Collared Pratincole, Great Spotted Cuckoo, Red-necked Nightjar, European Roller, European Bee-eater, Calandra Lark, Black Wheatear, Spectacled Warbler and Iberian Magpie, plus the many thousands of overwintering Common Crane.
Rarities
There are approximately 50 pairs of Spanish Imperial Eagle breeding here, and are doing well due mainly to the recovery of their staple prey, the rabbit, which suffered a 90% decline due to 2 extremely virulent diseases, but due to some sterling work by the Government, have been supplemented by captive bred and released rabbits.
Check-list
Birds you can see here include:
Little Grebe, Great Crested Grebe, Black-necked Grebe, Great Cormorant, Little Bittern, Black-crowned Night Heron, Squacco Heron, Cattle Egret, Little Egret, Purple Heron, Grey Heron, Black Stork, White Stork, Eurasian Wigeon, Gadwall, Common Teal, Mallard, Northern Pintail, Garganey, Northern Shoveler, Red-crested Pochard, Common Pochard, Ferruginous Duck, Tufted Duck, European Honey Buzzard, Black Kite, Red Kite, Black-shouldered Kite, Griffon Vulture, Cinereous Vulture, Egyptian Vulture, Short-toed Eagle, Western Marsh Harrier, Hen Harrier, Montagu's Harrier, Common Buzzard, Booted Eagle, Bonelli's Eagle, Spanish Imperial Eagle, Golden Eagle, Lesser Kestrel, Common Kestrel, Northern Hobby, Peregrine Falcon, Common Quail, Water Rail, Common Moorhen, Western Swamphen, Eurasian Coot, Little Bustard, Great Bustard, Common Crane, Pied Avocet, Black-winged Stilt, Stone-curlew, Collared Pratincole, Little Ringed Plover, Kentish Plover, Eurasian Golden Plover, Northern Lapwing, Dunlin, Ruff, Common Snipe, Black-tailed Godwit, Common Redshank, Black-headed Gull, Gull-billed Tern, Whiskered Tern, Black Tern, Pin-tailed Sandgrouse, Black-bellied Sandgrouse, Great Spotted Cuckoo, Common Cuckoo, Eurasian Scops Owl, Little Owl, European Bee-eater, European Roller, Eurasian Hoopoe, Eurasian Wryneck, Greater Short-toed Lark, Calandra Lark, Wood Lark, Thekla Lark, Sand Martin, Barn Swallow, Red-rumped Swallow, Tawny Pipit, Water Pipit, Meadow Pipit, Bluethroat, Western Black-eared Wheatear, Cetti's Warbler, Savi's Warbler, Zitting Cisticola, Common Reed Warbler, Great Reed Warbler, Melodious Warbler, Western Olivaceous Warbler, Western Bonelli's Warbler, Dartford Warbler, Sardinian Warbler, Blackcap, Iberian Chiffchaff, Bearded Tit, Penduline Tit, Eurasian Golden Oriole, Iberian Grey Shrike, Woodchat Shrike, Common Jay, Common Starling, Spanish Sparrow, Ortolan Bunting, Reed Bunting
Other Wildlife
Spanish Ibex, Otters, Genet, Egyptian Mongoose, Weasel, Stoat, Wild Boar, Iberian Hare, Red Deer, Roe Deer, Badger.
Site Information
History and Use
Prehistoric cave dwellers in Caceres date back to around 30,000 B.C, and many caves still hold their legacy of cave paintings, due to the normally dry atmosphere. Civilization prospered during the bronze and iron ages with the arrival of Phoenician and Carthaginian settlers. Extremadura was conquered by the Roman Empire starting in 25 B.C. and the modern administrative capital, Merida, is derived from the Roman name, Emerita Augusta. Merida was the capital of Lusitania, the most important Roman colony in Spain. The worlds longest Roman Bridge was built in Merida, and is still used daily today. In 411 Visigoths replaced the faltering Roman empire and Merida became the seat of the Archbishopric of Spain. In 713 Extremadura was captured by invading Arabs and for five hundred years was under Islamic rule. By 1230 Muslim castles and fortified cities in the region were reconquered by Christians. Extremadura is also the birthplace of the Conquistadores, who went on to claim most of South America for the Spanish Crown. Cortez, Pizarro and Orellana were all born in Extremadura. They captured the Aztec and Inca empires and spread their Catholic faith throughout South America.
Areas of Interest
The centre of Caceres is still more or less the same as it was during medieval times, and as such, is used for many feature films wanting authentic buildings. Trujillo is more or less the same, and as with most places in Spain, everything features around the old square, or Plaza Mayor. Merida has probably the best collection of preserved Roman buildings in Europe, the Amphitheatre, Theatre, Circus, Aqueduct and Temple of Diana being just a few. The Roman Museum is a must for visitors interested in history.
Access and Facilities
Extremadura is reached from the northeast via the A5 motorway from Madrid, and is well signposted right from the airport. Budget airlines fly to Madrid Barajas from all over Europe, and flights can be had for almost nothing if booked well in advance. Buses are regular to Caceres from the Estacion del Sur, passing through Trujillo. A regular and excellent train service from Madrid Atocha stops at Caceres. Access from the south, and Seville, is again via the A5 motorway. The A5 motorway will come as bit of a shock for most European drivers, as it is usually fairly deserted, except for the large cities of Madrid and Seville.
Pages in category 'Extremadura'
The following 6 pages are in this category, out of 6 total.